Joseph: An exemplary attitude
We can learn a lot about attitude from Joseph.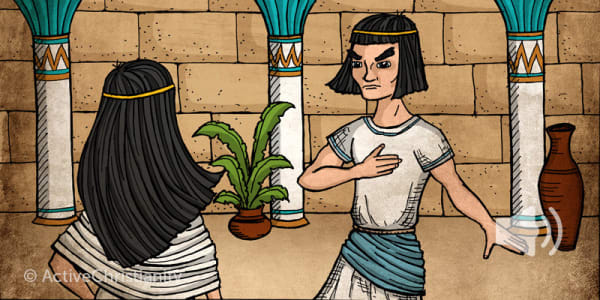 We read about Joseph in the Bible – an exceptional young man. An answer to his mother's prayers. Favorite son of his father. Dreamer of prophetic dreams. He lost it all, and then made a spectacular comeback as second in command to a king. Joseph's attitude was different. What was so special about this young man?
We can read the story in Genesis. About how Joseph, most beloved son of his father, was sold as a slave by his envious, bitter brothers. How he was bought in Egypt by Potiphar, an officer of Pharaoh. How he found favor in the eyes of Potiphar and was made overseer of his household and all that he had. And how the wife of his master tried to tempt him to sin.
What a situation for Joseph to find himself in. No good could come of this, no matter what he did. But he had a pure and noble attitude of mind. For him there was no question of giving in to her. "How can I do this great wickedness and sin against my God?" Genesis 39:7-9. It didn't matter to him what the consequences of his actions might be. Nothing could cause him to sin against his God.
The great wickedness of sin
What is your attitude when you are tempted? Do you look at giving in to sin as an option? Do you find yourself weighing the pros and cons and worrying about the consequences? Or do you have the same Godly fear that Joseph did? Would you rather face any consequences than sin against your God?
It's about knowing how serious it is to sin. If you really understood how God feels about sin – how much He hates it – then sinning would never be an option to you. God is holy through and through, and He wants everything in His creation to be holy too. Sin ruins everything. Before sin there was harmony between God and mankind. Sin separates people from God. (Isaiah 59:2) God loves the people whom He created, and wants to bless them. But He cannot do that when sin comes in between.
Yes, He is a loving God, and there is forgiveness for sin, but think how much more joy you can bring to Him when you have that same determined attitude that Joseph had. "How can I do this great wickedness?" To choose to sin when you know better is not a small thing.
You must be obedient to that voice you hear that urges you not to do something. That speaks to your heart and shows you when something is outside of God's will. Whether it is something "big", like adultery as Joseph was tempted to, or something that seems relatively harmless. A small lie to save your skin, for example. To God, sin is sin, and He hates it all, because it means that you have chosen to do your own will and live for yourself. It's rejecting God's will and doing that is the same as saying that His will is not perfect; that there is another viable option.
Continue reading below ↓
Like what you're reading?
The result of choosing Godly fear
But for those who do choose Godly fear over sin, they will experience that it is totally worth it. It's not easy to say no to sin. It costs something. But it's a well-known phrase, that nothing worth having comes cheap. And the result? "For our light affliction, which is but for a moment, is working for us a far more exceeding and eternal weight of glory." 2 Corinthians 4:17.
Even though he was thrown into prison, Joseph rose to authority there as well. God gave him the gift of interpreting dreams, and thereby made him indispensable to Pharaoh. In an amazing turn of events, he rose to be second in command of all of Egypt! And on top of all that he received there, he also got his father and family back. This didn't happen by chance. God looks after people like Joseph, those who have a God-fearing attitude. When you say no to that which you know is wrong, and choose to be well-pleasing to God instead, then you will also experience blessing as Joseph did, because of his Godly fear. (Galatians 6:9)
Joseph's attitude – Godly fear!
The attitude you have is about the decision that you make. Decide today that you will not do wickedness and sin against your God. You can pray to God that He can teach you to hate sin as He does. And stand by your decision. God strengthens those whose hearts are wholly for Him. "For the eyes of the Lord run to and fro throughout the whole earth, to show Himself strong on behalf of those whose heart is loyal to Him." 2 Chronicles 16:9. And you will find that the passing pleasure or benefit of sin does not come close to matching the peace and blessing you receive when you choose to do the good. (Romans 2:5-10)
Joseph's attitude of mind was to hate sin and live in Godly fear. This meant that his life was blest by God. It can be the same for you! It's your decision to make. Arm yourself with the mind to rather die than to sin, and it will go well for you. God will see to that.
This post is also available in
Scripture taken from the New King James Version®, unless otherwise specified. Copyright © 1982 by Thomas Nelson. Used by permission. All rights reserved.