Why should there be self-pity?
As a young girl, Page was diagnosed with cancer which led to the loss of her leg …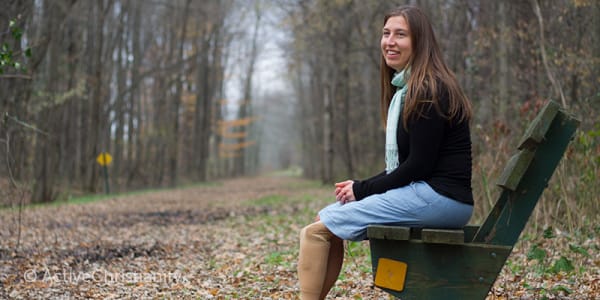 When Page was nine years old she was diagnosed with bone cancer, osteosarcoma, and the tumor that began in her left knee had spread so much that amputation was the only choice. Now, 15 cancer-free years later, Page tells about her experiences growing up with a prosthetic leg.
I had an easy-going personality, so when my parents broke the news to me as a nine-year-old, that my leg was going to have to be amputated, I really did not think too much about it. That might sound strange, but I believe it was God's grace that I was able to put so much trust in Him and my parents. But as I grew up I began to see how it affected my life, and I had to fight to keep this trust, in several ways.
Self-image and self-pity
I remember being a teenager and looking at pictures of myself with friends and thinking "my leg really sticks out in this picture, it really looks horrible." Or playing soccer and thinking "if only I didn't have a prosthetic leg, then I could really be a valuable player."
But God gave me real light that these thoughts were just self-pity. And self-pity is the enemy! It comes as a single thought and if you don't go on the offense and fight back against it and refuse to give in, then it can grow into a massive thicket of darkness that will be hard to find your way out of.
Self-pity causes you to become totally engulfed in what you want and need, and think about how other people should treat you. It leads to making demands on others, and being filled with unthankfulness and bitterness. For a Christian, it is easy to see that this thought pattern has nothing to do with God's thoughts. "For God hath not given us the spirit of fear; but of power, and of love, and of a sound mind." 2 Timothy 1:7.
I have to see self-pity as an enemy first. When I see it is as something that is against God's will, I can choose to hate it with a perfect hatred (Psalm 139:21-22). Then, I can take up the armor of God and utterly destroy it (Deuteronomy 28:7). It helps to clearly see that giving in leads to complete sorrow, emptiness, and helplessness; in fact it has destroyed billions of lives. Why would you choose to hand yourself over to it?
Perfect trust in God
I often have to deal with maintenance and repairs to my prosthetic. It can happen that the metal hinge suddenly snaps and then it feels like I put my life on hold to get in to see the Prosthetist and get things back to normal. Situations like this can bring up a lot of anxiety and worry. What if they can't fix it as fast as I think they should? Will I miss work? What if this happens, or that happens?
Just like self-pity, I need to recognize anxiety as an enemy. This enemy is a lack of faith or trust in God. Jesus says, "For your heavenly Father knows that you need all these things. But seek first the kingdom of God and His righteousness, and all these things shall be added to you." Matthew 6:32-33. If I believe this verse, and choose to obey it in simple faithfulness, then I find rest. God wants us to trust Him completely and overcome all doubt.
James writes: "…ask in faith, with no doubting, for he who doubts is like a wave of the sea driven and tossed by the wind. And let not that man suppose that he will receive anything from the Lord; he is double-minded, unstable in all his ways." James 1:6-8. Jesus also said several times "according to your faith let it be done unto you." (Matthew 9:29, Matthew 15:28).
Only for my eternal benefit
My specific situations were actually hand-picked for me. If I take a step back and look at the big picture, I absolutely can see it just as Paul expresses it to the Corinthians: "For our light affliction, which is but for a moment, is working for us a far more exceeding and eternal weight of glory, while we do not look at the things which are seen, but at the things which are not seen. For the things which are seen are temporary, but the things which are not seen are eternal." 2 Corinthians 4:17-18. It's not about the outward situations that I have while here on this earth, it's about finding the things that are displeasing to God (the enemies like self-pity and anxiety), and overcoming them.
In eternity, my earthly situations will have passed away, but what will remain is what I have gained from them. As I fight against sin the virtues of Christ come into my life to a greater and greater degree. For example, selflessness, generosity, and perfect love will come into my life more and more as self-pity is put to death. Complete faith and trust in God will come when I fight against all anxiety and doubt. That's what will remain in eternity – love, joy, peace, longsuffering, kindness, goodness, faithfulness, gentleness, self-control (Galatians 5: 22-23). I am called to have a fullness of all these things in my life (Ephesians 3:19).
Everyone has custom-made situations that are perfect for them. Maybe you don't find yourself in the exact situations that I have, but have you thought about your own? Can you see that situations in your own life are working for your eternal benefit? Do you really believe that? If you do, then there is no reason to let self-pity, doubt, worry or discouragement into your life!
Scripture taken from the New King James Version®, unless otherwise specified. Copyright © 1982 by Thomas Nelson. Used by permission. All rights reserved.