A new outlook on life
Karen struggled with finding meaning in the endless cycle of day to day life, until she heard a message that caused her to look at life in a completely new way.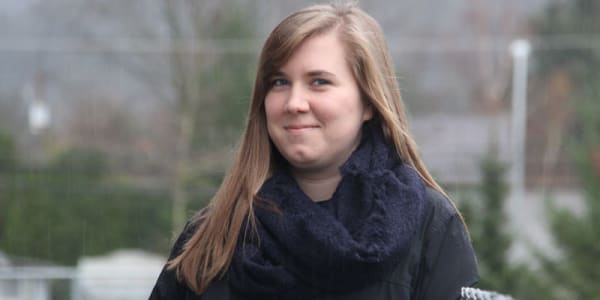 Beep! Beep! Beep!
Your alarm goes off, jolting you out of your peaceful slumber. A groan escapes you. You don't want to get out of bed. You don't want to face the day. You ask yourself: Do I really need to get up? Why bother? What's the point?
Sound familiar?
Life can feel heavy at times. Things like financial stress, peer pressure, relationships, school, or work can feel like massive burdens. You can turn on the TV to watch the news and afterwards be left feeling dismayed at the state of the world. So what is the point?
"We're born. We go to school so we can get a job. We get a job so we can make money. We make money so we can survive. We survive so that we can go to our job."
What is the point?
That's how I used to think. Life was simply a circular struggle, and it felt empty and pointless. I didn't think that anything I did would ever truly make a difference, and because of this I felt that my life lacked true meaning. Even when I was doing something "good" I couldn't shake the emptiness that plagued me wherever I went.
I knew there had to be more to life than simply going through the motions and fulfilling my daily duties. I thought about the normal things that most people live for – family, friends, careers, money, etc. – and I knew that even if I achieved all those things it would never bring me the true meaning that I so desperately wanted. Although all those things might bring me some form of happiness, they are temporal and outward, and inside the emptiness would still be there. I had begun to doubt that I would ever truly be happy or find meaning in life. I wondered, "What is the point of life?"
I had always attended church ever since I was a child. I knew I wanted to be a Christian and be a "good person," but I found that after a time this too felt pointless as I was still left with an emptiness that I couldn't explain. It was when I was attending a Christian conference that the true root of my problems finally dawned on me. The speaker was speaking about how Jesus was working so that one day we could be presented to Him, as a bride that is holy and without blemish! What a golden opportunity we have to be in the bride of Christ! You can become a new person!
The missing piece
And there it was. What I had been missing. I could become someone new. I didn't have to continue to live life the way that I had been born. As I sat there I knew that I didn't like who I was according to my flesh – my selfish tendencies, my hasty reactions, my judgmental thoughts toward others. They lay deep within my nature, but with Jesus' help I could become free from these things and gain a completely new nature – a divine nature! That is the point of life.
"By which have been given to us exceedingly great and precious promises, that through these you may be partakers of the divine nature, having escaped the corruption that is in the world through lust." 2 Peter 1:4.
I hadn't realized it before, but the emptiness that I had felt inside was actually a deep yearning for something eternal. Something of true value and worth that wouldn't fade away. When this became clear to me it gave me a whole new outlook on life. Instead of "going through the motions" and just making it through the day, each day could be viewed as an opportunity to gain something eternal!
If I am to be the bride of Christ that means that I have to know Jesus. How do I get to know Him? By denying my own will when I come into various trials, just as He did.
"Then He said to them all, "If anyone desires to come after Me, let him deny himself, and take up his cross daily, and follow Me." Luke 9:23.
An active work in progress
In my daily situations, God can show me things about myself that I need to change. I was too quick to react badly here; I was actually seeking a little bit of honour there, etc. When I see and acknowledge these things then I can actively work on myself. In this way, I am walking the same way that Jesus walked when He was on earth. This is the path to divine nature.
"While we do not look at the things which are seen, but at the things which are not seen. For the things which are seen are temporary, but the things which are not seen are eternal." 2 Corinthians 2:18.
As I go throughout my day I can pray to have enlightened eyes. To have enlightened eyes means to be able to see past my everyday situations and see the eternal value that I can gain from that situation. Everything that God sends my way is an opportunity for victory, to become free from my own lusts and desires. When I come into a situation where I see something in myself that I know is sinful then I can pray to Jesus for strength to put that sin to death. When I do this in every situation that God sends me then I am slowly being transformed into His image. I am actually being prepared for eternity.
"And the world is passing away, and the lust of it; but he who does the will of God abides forever." 1 John 2:17.
It is not about what job I do or what my daily circumstances are, but rather to use the situations God gives me to be transformed from the way I am and into a completely new person! This gives me a reason to get out of bed every morning! This brings true meaning to my life!
"But we all, with unveiled face, beholding as in a mirror the glory of the Lord, are being transformed into the same image from glory to glory, just as by the Spirit of the Lord." 2 Corinthians 3:18.
Scripture taken from the New King James Version®, unless otherwise specified. Copyright © 1982 by Thomas Nelson. Used by permission. All rights reserved.