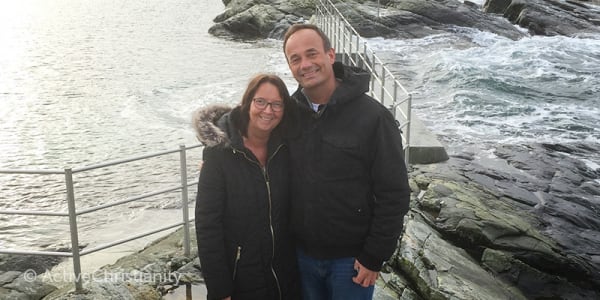 "Nothing good ever comes from dwelling on 'Why me?'"
Anita was a young wife and mother when she was struck by a serious, life-threatening illness…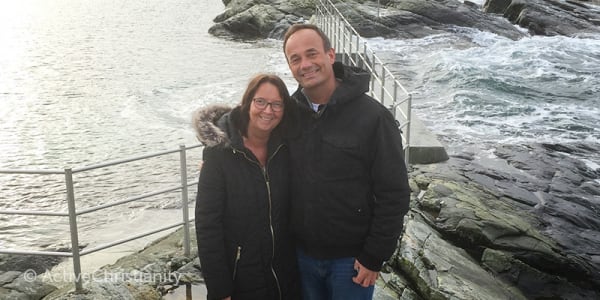 My dear, late wife, Anita, inherited a rare connective tissue disease, which her grandmother, mother, aunts, uncle and siblings all died of at an age of about 34-46 years. When Anita was 26, she was also diagnosed with this illness. What is so serious about this disease, besides muscular and skeletal pain, is that the blood vessels expand and eventually burst if they are not operated on time.
It was a tough and challenging time when she was told that she had inherited this serious illness. Anita was asked to come to the hospital for a closer examination, which revealed that the pulmonary artery from the heart was so expanded, that she should have surgery as soon as possible. Just four weeks later she had an operation, replacing part of the artery and inserting an artificial heart valve. In the first weeks leading up to the operation, she struggled with dark thoughts, and her mood varied – a normal response to hearing such news.
From Anita herself
A quote from something that Anita wrote about that time just before surgery: "We had booked Easter holidays at a cabin in the mountains with a few friends, and wanted to go ahead with this even though I had been diagnosed and would soon be having an operation … My mood continued to fluctuate between happiness and sadness, between joy and annoyed words, with a way of behaving that I did not really like myself."
One evening in the cabin, Anita said, "Svein, you can go and take a sauna together with the guys, so I can lie down and gather strength for tomorrow." Quote from Anita's notes: "When I had gone to bed, it was obvious to me that I really had to get myself straightened out, in order to become the mother I wanted the children to remember if I were to die as I thought, and the wife that Svein deserved. I didn't want any of them to be left with bad memories. Then I folded my hands and prayed to God as never before to remove all destructive thoughts and my negative ways, and that no bitterness and wicked thoughts and negativity should prevail, but that I could live in such a way that I could be a good example in the midst of my difficult situation. Then something happened that I can't explain. I was filled with peace and joy and faith that this would go well, and that evening I fell asleep peacefully."
Anita consciously used the power of prayer to come to rest, and to get heavy thoughts, worries about the future, etc. under her feet. After this day she didn't let her situations bog her down, but rose above them.
The following years, from age 26 until she turned 50, Anita underwent a series of serious and complicated operations. Throughout all this, she was preserved from bitterness and other destructive powers. Prayer was a daily weapon to help keep her in peace and rest. She was reconciled with her life, filled with gratitude, peace and joy in life, and she regarded every day as a gift from God.
A new quote from Anita: "Bitterness is something that quickly tries to force its way in. The thoughts just come. The word 'why' is a dangerous one to let into the mind. Nothing good ever comes from dwelling on why I was the one to suffer this fate. … Thanks to my faith, I have God from whom I get power and strength. Without God, a happy life with this illness would have been much more difficult. I can believe that the day of my death is decided. Therefore, I must live the days I have been allocated in the best way possible, and all that I meet on my way is an education for the life that comes after death."
Strength from God's Word
One of the verses in the Bible that was very dear to Anita, and which was of great help to her, was from Isaiah 40,29: "He gives power to the weak, and to those who have no might He increases strength." Quote from Anita: "I have experienced this many times, and use the power of prayer daily. I am dependent on God's help and the peace and rest He gives in the midst of trials."
Another scripture that was vital for her was in 2 Corinthians 4:16, "Therefore we do not lose heart. Even though our outward man is perishing, yet the inward man is being renewed day by day." This new inward being, this fulness of glory – the life of Jesus that is to be formed in our circumstances, was something that we got to experience to a very great degree in Anita. She was full of gratitude for life, and used every day as if it were the last, and blessed and was good to the people she met on her way.
The fruit of the Spirit in Galatians 5,22-23 emerged from her life, as it is written: love, joy, peace, longsuffering, kindness, goodness, faithfulness, gentleness, self-control. "In Him was life, and the life was the light of men," it's written in John 1:4.
Many who met her on her way noted this thankfulness that radiated from her life. Thanks to an unwavering faith, by the power of prayer, and believing that God's way with us is perfect, it is truly possible to live an exalted life despite great trials and tribulations. Our dear wife and mother Anita died from this illness on July 15, 2017, but was exalted in her spirit, right until the last hour of her life.
Scripture taken from the New King James Version®, unless otherwise specified. Copyright © 1982 by Thomas Nelson. Used by permission. All rights reserved.