The 3rd extraordinary promise: Hidden manna, a white stone, and a new name
The third in a series about our eternal rewards.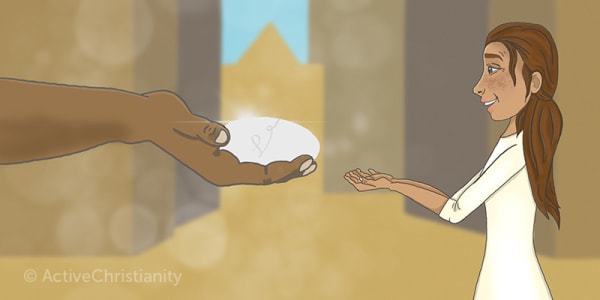 "To him who overcomes I will give some of the hidden manna to eat. And I will give him a white stone, and on the stone a new name written, which no one knows except him who receives it." Revelation 2:17.
God loves His creation. Sin corrupted it, but now He has a plan to return it to its original state of perfection, and He will reward those who help Him carry out this plan.
Sin was born because of Satan's desire to set himself above God, and it destroyed the harmony of heaven. Now God needs sin to be completely eradicated from all of His creation, in such a way that there is no possibility of it happening again.
So He created mankind with the express intention that they should rule over sin. (Genesis 4:7) His entire plan is that mankind should live a life where they hate and resist sin, and say yes to Him – to overcome. One who overcomes sin in their life is proving that God's way is perfect, and is part of the work of abolishing sin for all eternity. Each one who does this will taste the rich rewards of living such a life. These promises apply to all who overcome.
Continue reading below ↓
Like what you're reading?
The hidden manna
The hidden manna is something that you receive already in this life. It corresponds to your hidden life. Your hidden life is that place inside where no one knows what is going on except for you and God. It's where you are tempted to impure thoughts, to pride, to lying, etc. It's where you fight and overcome those temptations.
The hidden manna is the help that you get when you pray for it in those times. It is the nourishment you receive, the power from on high. It is given to everyone who asks for it, everyone with a longing to be free from sin. The hidden manna gives vitality and life.
The white stone and a new name
At the time the book of Revelation was written, a white stone was equivalent with innocence. If you were to be tried for a crime, a white stone signified acquittal, and a black stone signified guilt. To receive a white stone means that you are free from condemnation. You have been tried and have been found worthy.
The white stone is a symbol of whom you have become through your faithfulness and your determination to rule over sin. It is rock-hard faith and purity. Here on earth your faith is being tested – there in eternity it will have been proven; it's withstood the testing. Written on this stone of flint-hard faith will be your new name.
This name will reflect the battles that you have stood in, and sufferings that you have endured. It will illustrate who you've become because of your faithfulness and God's grace. (2 Peter 1:4) You know the battles you had to endure to get there, and you will immediately identify with that name. It will be the ultimate symbol of victory and transformation.
All of this is proof that your faithfulness is highly esteemed by God. This new name, that only He and you know, is the testimony of your spirit; it's how God sees you. He doesn't see what you were according to your human nature. He sees the new creation in you, the result of your faithfulness to Him and His commandments. (2 Corinthians 5:17) And that is what you will be for all eternity. No more battle to overcome sin, but a new creation to live in eternal purity!
If you enjoyed this article about God's promise that we should receive "hidden manna, a white stone, and a new name," you may also want to read more about the other extraordinary promises given to us in Revelation 2 and 3.
This post is also available in
Scripture taken from the New King James Version®, unless otherwise specified. Copyright © 1982 by Thomas Nelson. Used by permission. All rights reserved.