The 6th extraordinary promise: A pillar in the temple of My God
To become a pillar in the temple of God is actually a promise we are given. The sixth in a series about our eternal rewards.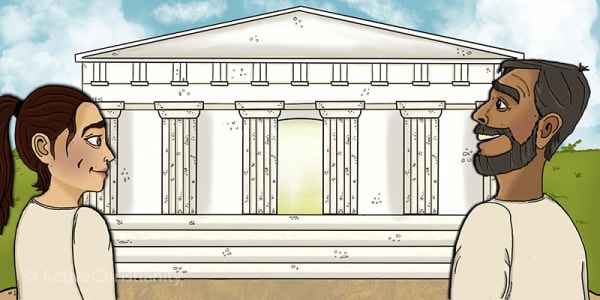 "He who overcomes, I will make him a pillar in the temple of My God, and he shall go out no more. I will write on him the name of My God and the name of the city of My God, the New Jerusalem, which comes down out of heaven from My God. And I will write on him My new name." Revelation 3:12.
God loves His creation. Sin corrupted it, but now He has a plan to return it to its original state of perfection, and He will reward those who help Him carry out this plan.
Sin was born because of Satan's desire to set himself above God, and it destroyed the harmony of heaven. Now God needs sin to be completely eradicated from all of His creation, in such a way that there is no possibility of it happening again.
So He created mankind with the express intention that they should rule over sin. (Genesis 4:7) His entire plan is that mankind should live a life where they hate and resist sin, and say yes to Him – to overcome. One who overcomes sin in their life is proving that God's way is perfect, and is part of the work of abolishing sin for all eternity. Each one who does this will taste the rich rewards of living such a life. These promises apply to all who overcome.
How to become a pillar in the temple of God
This promise was written to the church in Philadelphia, a city in what is now Turkey. That region was troubled with many earthquakes. The pillars that were built to support the buildings there were 5×5 meters wide. Those pillars could withstand quakes; they were immovable. It is the same for you who overcome. You will be made into a pillar in the temple of God. No matter what life sends you, what trials and temptations you have to face, you will never lose your faith. You will be able to bear anything.
But there is more to it than winning one victory, and then you become a pillar. No, it is "He who overcomes I will make a pillar." This is a process. It is he who overcomes, and overcomes again, then again. It is a victorious life. Your faithfulness in your trials and temptations shapes you into a pillar that becomes stronger and stronger.
Then you will be a pillar in the temple of God as described in Revelation 21. A pillar that can also strengthen, bear, and be a support for others. You will be a useful tool for God.
Claimed by Jesus
The New Jerusalem is the bride of Christ. (Revelation 21:2,9-11) By writing on you the name of God, the name of the New Jerusalem, and His own new name, Jesus is claiming you as His own! It is a sign of belonging. When you have fought against sin, endured, and overcome it, just as He did when He was flesh and blood like us here in this world, then you belong together with Jesus and His Father.
The glory of such a promise is incomparable. If you could really comprehend it, then you would see the worthlessness of trying to preserve anything else for yourself. Your own honor, riches, self-righteousness, whatever it is. Leave it all behind and Jesus will mark you as belonging together with Him and His Father! Think how you will rejoice when you find yourself in eternity, dwelling together with them forever!
If you enjoyed this article about God's promise that we should become a pillar in the temple of God, you may also want to read more about the other extraordinary promises given to us in Revelation 2 and 3.
This post is available in
Scripture taken from the New King James Version®, unless otherwise specified. Copyright © 1982 by Thomas Nelson. Used by permission. All rights reserved.