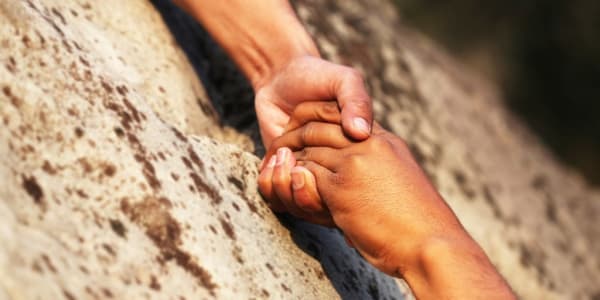 The crucial moment: how to get help when you need it most
Is it just a matter of course to fall in the time of temptation?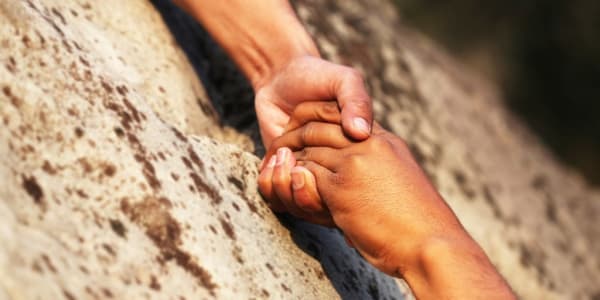 The air is thin and it's becoming difficult to breathe. The wind scratches at the man's raw cheeks, as he looks out over the chasm. It's much wider than the width of a normal step and it's obvious that he will have to jump in order to make it across.
The idea is a dangerous one, since there is no support below. He knows that with one wrong move he could easily fall to his death. Nonetheless, he remains undaunted. Backing up slightly, he closes his eyes and then sprints toward the other side.
Instead of landing safely on the rock, his jump was too short and he finds himself hanging over the icy ledge. Terrified, he reaches out for something that he can use to hoist himself back up with. But the rock is cold and slippery, and difficult to grasp. With every second that goes by, he is slipping further down into the chasm.
Our own temptations
This may seem like a very melodramatic situation, which few people experience. But, it can actually be compared to a situation that most Christians find themselves in on a daily basis.
Just like the man who comes to a gap in the rock, we also come to obstacles in our own lives; we meet temptations every day. One false step in these temptations can cause us to plunge into sin and sustain serious damage. We have to be careful that we do not fall in such situations. (1 Corinthians 10:12)
Continue reading below ↓
Like what you're reading?
The time of need
The Bible tells us to "come boldly to the throne of grace, that we may obtain mercy and find grace to help in time of need." Hebrews 4:16. Here, we can see that there is mercy and grace available for us in our time of need.
But, when is this "time of need?" Is it after we have fallen that we ask God for His help and mercy?
Think back to the man who is hanging off the edge of the mountain. Surely, someone would have mercy on him if they found him after he had fallen. But, by then, it would be too late. His fall could have been extremely serious, warranting medical attention and causing scarring that would last a lifetime. It would be much greater grace if he could have obtained help before he had fallen.
It is the same with us. We desperately need God's grace and mercy over us in our time of need. This "time of need" is when we are tempted, before we fall into sin. Here, a genuine cry for help needs to ring out in our lives: "Dear Jesus, you must help me! Help me not to sin!"
True help
The help Jesus gives is the help that we so desperately need: power and grace to stand in our temptations and to overcome sin itself. "For because He himself has suffered when tempted, He is able to help those who are being tempted." Hebrews 2:18.
Jesus was in great need when He was a man here on earth; He cried out for help from God to resist sin in His own life. "Who, in the days of His flesh, when He had offered up prayers and supplications, with vehement cries and tears to Him who was able to save Him from death, and was heard because of His godly fear." Hebrews 5:7.
Because of His genuine need and godly fear, Jesus was able to receive the grace and help He needed to save Him from death. In His need, His desire to do God's Will and His own hatred against sin were strengthened, and He was therefore, able to resist sin and overcome in every situation. He never fell. We need to follow His example, to cry out with vehement cries and tears! We are not called to fall and fall again. No, God wants us to be more than conquerors! (Romans 8:37)
When we cry out in need and with true godly fear in our hearts to stand in our temptations, we can be absolutely certain that we will be saved. For it is written, "No temptation has overtaken you except such as is common to man; but God is faithful, who will not allow you to be tempted beyond what you are able, but with the temptation will also make the way of escape, that you may be able to bear it." 1 Corinthians 10:13.
Jesus is able to save to the uttermost those who come to God through Him; He lives to make intercession for them. (Hebrews 7:25) With Jesus' help, we aren't just saved from our current temptation, or daunting situation. We are saved from sin itself. We learn to be humble, to ask for the help that we need before we fall, and thus, learn to resist and conquer sin in our own lives. This is true help!
This post is also available in
Scripture taken from the New King James Version®, unless otherwise specified. Copyright © 1982 by Thomas Nelson. Used by permission. All rights reserved.