E15: Can we thank God in our darkest days?
PODCAST: Get to know a woman who knew the power of being thankful.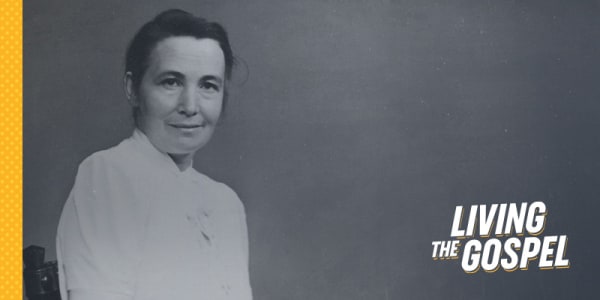 Just in time for American Thanksgiving, Julia and Kathy have a chat about a song written by a woman who learned true thankfulness during her lifetime. In this song all about being thankful, she writes about thankfulness for "days full of sunshine, and trials of deepest night." Only a person who has thoroughly and completely taken the verse, "In everything give thanks" to heart could write a song like this one. (1 Thessalonians 5:18.)
Transcript: "Living the Gospel" podcast, Episode 15: A thankful woman
This is ActiveChristianity's "Living the Gospel" podcast. Join us as we explore different aspects of the gospel according to the Bible, and how we can put this into practice in daily life.
Kathy: Hi everyone, welcome to "Living the Gospel" on this Wednesday in November. I'm Kathy.
Julia: And I'm Julia, and the song you're listening to right now is the subject of today's episode.
Kathy: Right, the theme of the song is thankfulness. Which is fitting, because tomorrow in the United States, it's actually Thanksgiving. So, Julia what is one thing that you are thankful for today?
Julia: Actually, fittingly with today's theme, lately I have been really thankful for the songs in our church songbook. They contain words filled with spirit and help, that get stuck in my head and then come to me during the day, just when I need them. This song is just one of many examples.
Kathy: Yeah, there really is a special spirit in those songs, I think. The title of this song that we are listening to today is, "I thank Thee, O precious Savior," and it was written by a woman named Ingrid Bekkevold. And I think that she was an exceptionally thankful woman. She starts the song by thanking God for His blessings so rich and countless, as vast as the rolling sea, and for His love and care. And you could easily imagine from these words that she must have experienced only blessings in her life.
Julia: Right, but then you go into the chorus of the song and she writes, "I thank You for days full of sunshine and for trials of deepest night. I thank You my precious Savior, for you guide all things right." So that shows what her attitude of heart was. Not just thankful for the good times, but thankful for the trials. That's not something you come across very often, I think.
Kathy: So, we wanted to give a little background on this song to share with you today. But Ingrid Bekkevold herself actually passed away in 1977. So obviously we weren't able to ask her directly. But we have done a bit of research and we watched a video that was filmed several years ago, and one her sons spoke there about her life. And she very definitely knew and understood what it was to go through trials of deepest night as she wrote about.
Julia: Right. For example, when they were first married, she and her husband lived in a tiny old house which was in pretty poor condition. There was no running water, the roof leaked and eventually several kids came along, and I think they were pretty crowded in there.
Kathy: Apparently, she kept a pad of paper and a pencil on her kitchen counter, and many of the songs she wrote came from the everyday circumstances of her life.
Julia: I mean she definitely did have a gift for writing and composing songs; there's no doubt about that. She was a very musical person, but she didn't just write for the sake of publishing songs or because she was a good poet. She wrote because she had something God was working in her heart that she wanted to express. And I think she had a special ability to put into writing what she had on her heart.
Kathy: Right, and because of that, the songs came straight from her heart and have gone straight into the hearts of many other people. I know many people love her songs and feel like they can relate to them. And I've often heard personal stories from people about how these songs have been especially meaningful and helpful to them at certain times in their lives.
Julia: We heard one story from two evangelists who went to preach at a conference in India in 1985. They didn't have any chairs, so the floor was crowded with people who came because they were eager to hear God's Word. Then they sang this song we're going to listen to today, "I thank You for days full of sunshine," and tears were running down people's faces, apparently especially the mothers. And this was because people could relate to this song, even then, 45 years after the song was written!
Kathy: Songs like this, that are written because the Holy Spirit has been the driving force, they stand the test of time. And to this day we can be strengthened in our spirits by songs that were written decades ago.
Julia: In 1943 Ingrid experienced something that made this song even more real, precious and personal for her. Her 13-year-old son Elias died of meningitis.
Kathy: In the interview we watched with her son Filip, he said that this experience had a profound effect on the family. And in that time, they often sang this song, which she had actually written three years previously.
Julia: So she definitely knew what "trials of deepest night" were. She didn't only experience days full of sunshine. And yet, she was so extremely God-fearing that she saw everything, even this, as God's leading in her life. She was a thankful person from the bottom of her heart.
Kathy: Yeah. And I think that only a person who has thoroughly and completely taken the verse, "In everything give thanks" to heart could write a song like this one. She believed in God no matter what happened.
Julia: Let's listen to the full song now. It's sung here by Dorothy Cinnamon.
Continue reading below ↓
Like what you're reading?
"I thank Thee, my precious Savior" Music Video

Kathy: When I listen to that song, I know that I have a lot to work on to get it that way in my own heart, where I can be truly thankful and trust in God so completely, no matter what happens in my life.
Julia: Songs can work in our hearts in a very special way. And ones like this, with such a powerful spirit in them, can really have an effect on our lives.
Kathy: And I think that's why it is really important that we listen to these kinds of songs. So that we fill ourselves with the spirit that's in them
Julia: Oh, absolutely.
Kathy: Well that's it for us for today. Thanks again for joining us and listening again.
Julia: We have several more encouraging songs available to listen to on our website, so we'll put a link for that in today's episode description.
Kathy: Bye for now!
Julia: Bye!
Scripture taken from the New King James Version®, unless otherwise specified. Copyright © 1982 by Thomas Nelson. Used by permission. All rights reserved.