How a vengeance against sin can make you a conqueror
How you can have a vengeance over the devil and crush him under your feet every time he comes to call.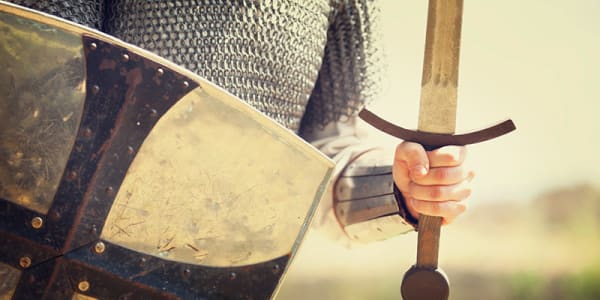 Do you have a sin that has been plaguing you for months now, even years? Are you sick and tired of being a slave to your lusts, even though you know it's wrong? You need a vengeance against sin – a pure, deep-seated hatred for sin in your life!
"Be sober, be vigilant; because your adversary the devil walks about like a roaring lion, seeking whom he may devour." 1 Peter 5:8.
We know that Christianity is war. We know that our enemy's only goal is to murder, to steal, and to destroy. And he has had thousands of years of practice. All of us as Christians have suffered losses at the hands of the devil in one way or another.
Many of us have lost time from our lives that we will never get back, time spent slaving under sin and obeying the lusts and desires that Satan tempts us with. Some of us have lost friends and family to the devil's sway as those close to us choose to turn their backs on God in order to live according to their own will and desires. Satan takes and takes and takes as much as he can. He is a deceiver who wants to turn the whole world away from God. But it is entirely possible to stop him in his tracks and send him fleeing in the opposite direction.
Turn the tide of
battle
The tide of battle can change in the instant you realize the truth contained in the Word of God.
"Therefore take up the whole armor of God, that you may be able to withstand in the evil day, and having done all, to stand." Ephesians 6:13.
"Now thanks be to God who always leads us in triumph in Christ, and through us diffuses the fragrance of His knowledge in every place." 2 Corinthians 2:14.
Christians are soldiers of God with all the powers of heaven behind them to crush and conquer the enemy until he is nothing but dust beneath their feet. Christians can arm themselves for battle by reading their Bible and praying to God in fear and trembling and thereby gaining the weapons they need to turn the tide of battle against Satan and making him the one to suffer defeat.
If you have suffered loss and defeat at the hands of the devil, pick up your Bible and arm yourself for war. Commit yourself to obeying God no matter what. Decide that you will do all to stand, and then stand. It is not God's intention that we should toil away in defeat, slaves to our sin. But we can wage a war against the devil that is a winning war, a war for complete freedom from all conscious sin!
"Therefore do not let sin reign in your mortal body, that you should obey it in its lusts… For sin shall not have dominion over you, for you are not under law but under grace." Romans 6:12,14.
Have a vengeance against sin
Now it's time for the warriors of God to have their vengeance on sin. Think about all that Satan has taken from you, all that he has destroyed. Isn't it enough? Hasn't it been long enough? Haven't you spent enough of your past life doing the will of the gentiles? (1 Peter 4:3) Haven't you paid enough of a price for sin?
"For the day of vengeance is in My heart, and the year of My redeemed has come." Isaiah 63:4. Let this same day of vengeance come into your heart as was in Jesus' heart. Let this same spirit of wrath over the devil come into you as Jesus was possessed of His whole life! No more sin! It is not even an option!
Choose instead to deny your sinful lusts and desires and say "no" to them! Every single time! Make a vow to yourself that Satan will suffer defeat at your hands every single day from now on! Enough is enough. He may have won a lot of victories before, but now he has an enemy in you. Turn the pain and anger and sadness over all that he has stolen from you into determination, faith and zeal against Satan.
Once you fill yourself with that righteous indignation and that godly zeal, that burning desire to make Satan pay for what he has destroyed, then your life will really hit a turning point. Then you can really hit back.
Mount a counter-attack
"For the weapons of our warfare are not carnal but mighty in God for pulling down strongholds." 2 Corinthians 10:4.
As humans we are very weak creatures. Satan is a mighty being, a fallen angel who has powers far beyond our ken. It is all too easy to forget that we have access to power too. Satan may be strong, and the lusts and temptations that plague us may seem insurmountable, but God is the creator of the entire universe and everything in it. He has power to do anything He wants. And what He wants is to help us overcome the devil.
So mount a counter-attack on Satan. Make him pay for all the pain and suffering he has brought to this world. And the way you do that is by fighting against sin in your own life. Go to work rooting out all the evil thoughts and desires that rise up in you and saying "no" to them so they do not grow. (Colossians 3:5)
Fill yourself with God's Word. Spend time reading the Bible. Think about the others. Pray for the others. Pray for yourself. Become a warrior of prayer, fighting for your brothers and sisters with strong cries and tears so that Satan will not gain dominion over them.
Be a light in the darkness. Talk about God's Word. Live a life of victory over your own sinful tendencies so that wherever you go you dispel the shadows of Satan's corruption and spread the light and hope of the gospel! Be somebody who, when you are around, hinders and unravels all of Satan's plans and designs. Satan only has power as far as people give in to them.
There are many ways to be a warrior of Christ. But it all comes back to the same thing. Be obedient to God. He is the general of the armies of heaven and that includes you, the lowly foot soldier. Without Him we wouldn't stand a chance against Satan. But when we follow His orders, whatever they may be, the devil doesn't stand a chance.
"Finally, my brethren, be strong in the Lord and in the power of His might. Put on the whole armor of God, that you may be able to stand against the wiles of the devil. For we do not wrestle against flesh and blood, but against principalities, against powers, against the rulers of the darkness of this age, against spiritual hosts of wickedness in the heavenly places. Therefore take up the whole armor of God, that you may be able to withstand in the evil day, and having done all, to stand.
Stand therefore, having girded your waist with truth, having put on the breastplate of righteousness, and having shod your feet with the preparation of the gospel of peace; above all, taking the shield of faith with which you will be able to quench all the fiery darts of the wicked one. And take the helmet of salvation, and the sword of the Spirit, which is the word of God; praying always with all prayer and supplication in the Spirit …" Ephesians 6:10-18.
Scripture taken from the New King James Version®, unless otherwise specified. Copyright © 1982 by Thomas Nelson. Used by permission. All rights reserved.