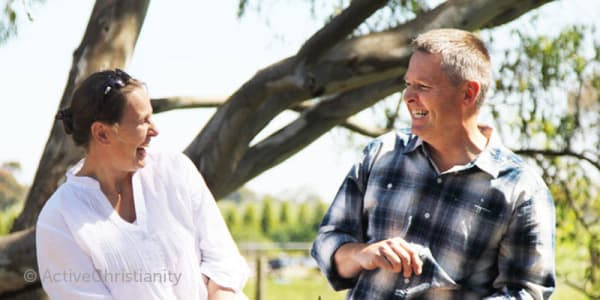 Walk as Christ walked
Andrew Ward "had it all," but couldn't shake the feeling that he was missing something.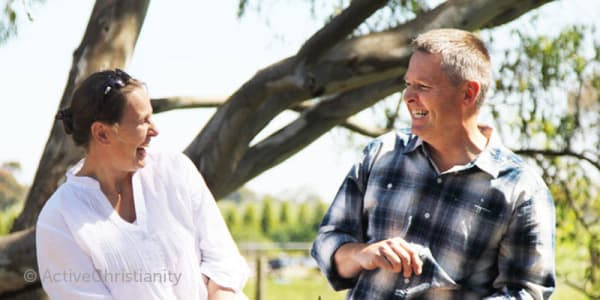 A beautiful family, active involvement with the local church and missionary outreach. Andrew Ward "had it all," but couldn't shake the feeling that he was missing something.
Andrew Ward lives in Melbourne, Australia. He is in his mid-40s, is married to Sarah, and they have several lovely children. His amiable personality and infectious warmth bring life and joy to his surroundings, and his life with God has brought Andrew great contentment. But it wasn't always this way.
Andrew grew up in a god-fearing home, and regularly attended Christian meetings with his family. At 13, God was able to awaken Andrew's spirit while he was attending a beach mission, and he made a conscious decision to follow Christ as a disciple from that day on. Unfortunately, he had few friends his own age to strengthen him in his faith, and before long he had returned to his old circle of acquaintances.
Determined to serve
It was quite some years later that Andrew renewed his covenant with God. He came under the wing of enthusiastic new friends at a charismatic assembly. Andrew was determined to serve with all his heart, and he put his hand to work wherever he found opportunity. Before long, he was engaged in a wide range of activities, including Sunday-school classes, youth activities, evangelical outreach programs, as well as speaking and contributing in the local meetings.
Andrew was now living what he understood to be a successful Christian life. He married Sarah, a wholehearted Christian who was herself actively involved in the local church life, and they started a family.
As time passed, despite being assured by his friends and elders that he could rejoice in all the good he was doing for God's kingdom, Andrew couldn't help feeling a persistent lack and emptiness within himself. Though he never doubted God, or the forgiveness he had received, there was something lacking in Andrew's life that he wasn't able to fill. He attended Bible study courses to improve his knowledge of the scriptures, he strove to live in every way he could think as a disciple, and yet he seemed unable to progress any further.
Eventually, Andrew began to despair. "I looked at everything I was doing to serve God, and didn't know what more I could do. Yet I had a constant feeling that there was something missing: I kept thinking, 'There has to be more to the Christian life than this,'" he recalls.
This realisation struck home with particular clarity one week, when Andrew was asked to preach the Sunday message. As he read through the Bible, preparing to speak on the topic of holiness, he fell on the apostle John's exhortation, "He who says he abides in Him [Jesus] ought himself also to walk just as He walked." 1 John 2:6. As Andrew examined his own life in the light of this verse, he realised that this word was far from being fulfilled, and he had no idea how to become changed.
Continue reading below ↓
Like what you're reading?
A longing for something more
Again, some years passed before Andrew found himself taking on the role of a school council member at his children's Christian primary school. It was here that he met Bill, a member of Brunstad Christian Church. Andrew was encouraged when he heard the life-experience of his new friend, and surprised that Bill believed it was possible to be gradually changed into the image of the Saviour.
While this new contact of Andrew's initially brought new hope to his life, at the same time he held reservations about whether it really could be true; after all, he had never met anyone who had any hope of walking as Jesus walked until now. Perhaps he was focusing too much on his own life, and not on the work Jesus had done.
Andrew remembers one of the first meetings he attended at Brunstad Christian Church, where the speaker read from the words of Jesus: "Now when He [Jesus] was asked by the Pharisees when the kingdom of God would come, He answered them and said, 'The kingdom of God does not come with observation; nor will they say, "See here!" or "See there!" For indeed, the kingdom of God is within you.'" Luke 17:20-21.
That day, the seed of faith that had been planted in Andrew's heart grew, and he realised he was at the beginning of a pathway that led to the real fulfilment of Jesus' Great Commission: to observe all the things Jesus had commanded His disciples. (Matthew 28:20)
Become like Christ
"It was actually liberating to realise that I had only progressed a little way in my Christian life; that there was an entire way to walk in Jesus' footsteps. I started to receive direction in my life, by allowing God to show me my own nature through the Bible, so that I could start to deal with it."
"It took time to realise that I needed to come to rest from 'dead works' (Hebrews 9:14), which I had been doing in order to have a good reputation before other people. Now, as God shows me more of my own human nature, I can find the sin that dwells in my flesh, and, as it is written in Romans 8:13, I can put it to death.
"This also brings me to a greater need for Christ; I realise I need His help continuously. When I am tempted to commit sin, Jesus' parables about the treasure in the field, and the pearl of great price frequently come to me: I'm the man who has found the treasure; the pearl. This gives me strength to overcome in temptation. Now I have hope, and I'm no longer fearful about the future."
Scripture taken from the New King James Version®, unless otherwise specified. Copyright © 1982 by Thomas Nelson. Used by permission. All rights reserved.