Who is the enemy and why should we fight it?
What are we to overcome? Why is it so bad?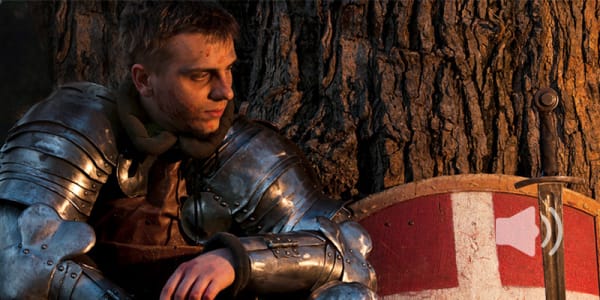 "You therefore must endure hardship as a good soldier of Jesus Christ. No one engaged in warfare entangles himself with the affairs of this life, that he may please him who enlisted him as a soldier." 2 Timothy 2:3-4
The whole Bible is full of talk of enemies, and battles, and metaphors about taking up the fight. We must remember that it is actually spiritual warfare that we are engaged in. We are fighting against "… principalities, against powers, against the rulers of the darkness of this age, against spiritual hosts of wickedness in the heavenly places." Ephesians 6:12. This means that no matter how dark this world gets, no matter how bound to sin and unrighteousness the spirit of the world is, we are called to fight hard in the opposite direction. We are fighting for purity, for righteousness, for the will of God in the midst of a crooked and perverse generation. (Romans 12:2; Philippians 2:15)
It is a life of action that each and every Christian is meant to live. It is our job to prove that God's will is perfect. We should be on the front line in the battle against Satan and the hosts of wickedness, who wish to have full control over the world. We are to be the obstacle that stops them from accomplishing their goal: the final hold outs who are unbeatable. The zealous loyalists who stop evil from taking over completely. We are to be the light and salt in this world. (Matthew 5:13-16)
So how can one person make a difference?
Continue reading below ↓
Like what you're reading?
Spiritual warfare in your personal life
Through faithfulness in your personal life. If you love Jesus more than anything, and your only longing is to live in such a way that is well-pleasing to Him because you owe Him everything, the answer is clear. The enemy is anything that is going to interfere with that.
Sin is anything that goes against God's Word and God's will and causes separation between us and God. Although we are tempted to sin by the lusts and desires in our flesh, in our nature, Satan uses these temptations to try to get us to commit sin. He whispers in our ear to make sin look appealing, like something that will make us feel good, when the truth about sin is that it harms our spirit by severing our connection with God and the blessing that comes from that. Instead, it causes nothing but misery, blindness, hurt, and a score of other evil things in our lives.
It is written in John 10:10 that, "The thief does not come except to steal, and to kill, and to destroy. I have come that they may have life, and that they may have it abundantly." The thief that Jesus is speaking about here is Satan. But then Jesus says that He has come to bring us life in abundance! Life in abundance is what we receive when we fight against this enemy. When we see our personal temptations as a battle against the forces of darkness that wish to rule this earth, then we understand why the Bible speaks so strongly about victory, and overcoming, and being a soldier. One blow against sin in our own lives is a blow against evil in the world. The battle is about more than just our personal lives.
We're not just fighting for ourselves. We're fighting to build the body of Christ (Romans 12:5), of which everyone engaged in this warfare is a part. We fight for each other, to strengthen and encourage one another. When we take heed to ourselves and to the doctrine, and continue in them, then we save both ourselves and those who hear us. (1 Timothy 4:16) Then God can use us as an instrument of righteousness, an example to everyone who meets us. (Romans 6:12) We can become an aroma of life leading to life, the fragrance of Christ to those who are being saved. (2 Corinthians 2:15-16)
Eternal life
As we progress on this way we are made more and more alive in our spirit, and this is an eternal spirit that leads to everlasting life. When we give in to temptation and allow Satan and sin into our lives, then our spirit is contaminated, and that eternal connection with the Father and the Son is snuffed out. (Ephesians 2:1) Giving in to sin is an eternal loss; it is far more than merely a momentary lapse. That moment cannot be relived; the possibility to partake of some of the virtues offered in that moment cannot be regained. And if we continue to give in to sin, to live in it, it leads to death. (James 1:14-15) This is not just a physical death. We all die physically, but those who have been made alive in their spirit go to be with their Saviour. Those whose spirits have severed their connection with God and been infected with sin will spend the rest of eternity with an unfulfillable craving for a connection with God and His goodness. This is spiritual death, the wages of sin. (Romans 6:20-23) It is the worst possible scenario! That is why sin is such a huge enemy.
But here and now, while we live on this earth, we have the opportunity to battle against that. To give Satan a blow every time we are tempted. We have a tremendous opportunity here, so let's not turn from God because we are deceived by Satan and by sin. Instead we can have the cry in our heart that Jesus had: "Here I am to do Your will God." (Hebrews 10:7) Then His will for our lives is carried out, and we grow in abundant, eternal life. There is absolutely no doubt that each temptation will be a victory when God is on our side. He has all power in heaven and on earth, and He is able to give us everything we need to overcome the enemy. And then our lives will be a part of proving that God's way alone is right and perfect. The blessing that we receive for faithfully fighting for Him is not something that we can even begin to imagine with our human minds.
This post is also available in
Scripture taken from the New King James Version®, unless otherwise specified. Copyright © 1982 by Thomas Nelson. Used by permission. All rights reserved.