Have I gone too far for forgiveness?
You cannot name a sin that Jesus did not die for.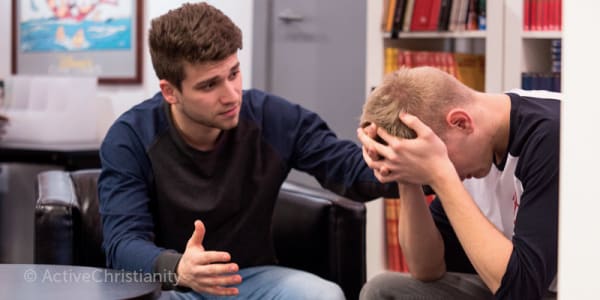 Will God forgive me?
"Will God forgive me for the things I've done? Is my sin unforgivable?"
So you have a past. A past that includes actions and behaviour that have clouded your spirit, have separated you from God, which make you feel rotten to the core. But now you regret what you've done; you want to repent. But is a poor wretch such as yourself still eligible for the kingdom of heaven? You know that He is good, but is He that good? Will God forgive you for what you've done?
The only thing that excludes a person from heaven is unforgiven sin. Jesus has the authority to forgive every sin and every blasphemy. "It was necessary for the Christ to suffer and to rise from the dead the third day, and that repentance and remission (forgiveness) of sins should be preached in His name to all nations." Luke 24:46-47. Jesus suffered and died for the sins of the whole world (1 John 2:2), and has power to forgive all sin, cast it into the depths of the sea, never to be remembered again. Can you not believe that He will do so for you? You cannot name a sin that Jesus did not die for.
"Do you not know that the unrighteous will not inherit the kingdom of God? Do not be deceived. Neither fornicators, nor idolaters, nor adulterers, nor homosexuals, nor sodomites, nor thieves, nor covetous, nor drunkards, nor revilers, nor extortioners will inherit the kingdom of God. And such were some of you. But you were washed, but you were sanctified, but you were justified in the name of the Lord Jesus and by the Spirit of our God." 1 Corinthians 6:9-11.
Paul was speaking here to some who had once lived deeply in sin, but when they heard the truth of the gospel, they acknowledged their sin and surrendered their life to Jesus. Not only were they forgiven, but they received help from the Holy Spirit to be finished with these sins and live a transformed life.
Click here to read about how you can deal with feelings of guilt.
Continue reading below ↓
Like what you're reading?
Repent, and God will forgive you!
When the Apostle Peter faced the Jews on the Day of Pentecost with the fact that they had crucified the Son of God, their Messiah who came to save them, they were cut to the heart. Can you imagine what they must have felt? They must have thought there was no forgiveness for such actions. But Peter said to them, "'Repent, and let every one of you be baptized in the name of Jesus Christ for the remission of sins…' Then those who gladly received his word were baptized." Acts 2:38-41.
Even these people who denied the Messiah, rejected Him while He was here on earth, and finally crucified Him, were able to repent and receive forgiveness for what they had done. His goodness, love, and longsuffering with us knows no bounds.
There is a condition for this forgiveness. There is no forgiveness without repentance, and there cannot be repentance without there first being an acknowledgement of sin. You can't be forgiven for something if you don't take responsibility for your actions and accept the truth – that you have indeed sinned and need to repent. Do you truly regret your actions in the depths of your heart? Are you firmly decided that you no longer want to behave that way; that you will leave the old ways of sin behind and start anew as a disciple of Jesus? Then you can be forgiven! "Ask and it will be given to you." Matthew 7:7. No one who repents of their sinful ways will be excluded from heaven.
Click here to read more about repentance.
However, what Jesus says in Matthew 6:14-15 is of vital importance: "For if you forgive men their trespasses, your heavenly Father will also forgive you. But if you do not forgive men their trespasses, neither will your Father forgive your trespasses."
Jesus could not be more clear here. If you ask for forgiveness, but are not willing to forgive others, God will not forgive you. You can't hold grudges, or you will go into eternity without forgiveness, no matter what people have done to you.
The one unforgivable sin: blaspheming the Holy Spirit
Jesus does speak about one sin that is unforgivable.
"Therefore I say to you, every sin and every blasphemy will be forgiven men, but the blasphemy against the Spirit will not be forgiven men. Anyone who speaks a word against the Son of Man, it will be forgiven him; but whoever speaks against the Holy Spirit, it will not be forgiven him, either in this age, or the age to come." Matthew 12:31-32.
In this instance that Jesus is talking about, the Pharisees had claimed that Jesus had worked miracles by the power of "Beelzebub," a demon. In fact, He was working these miracles in the power of the Holy Spirit. This was their blasphemy, saying that what was in fact pure and holy was unclean and evil. (Mark 3:30)
The Holy Spirit is also called the Spirit of truth (John 16:7-13). He points out to you the truth about yourself – your sin, and what you need to do about it. If you don't acknowledge the truth, how can you repent? If you don't repent, how can you be forgiven? If you are not forgiven, how can you have any hope for eternal life? How can you be saved?
Blaspheming against the Holy Spirit in this present time means that you have repeatedly and deliberately hardened your heart against the truth and continue in unbelief. You are essentially calling the Holy Spirit a liar, and that really is blasphemy. There is no forgiveness for a person who dies in unbelief, having continually rejected the promptings of the Holy Spirit. That is unforgivable blasphemy. But as long as you feel God working in and calling you, there is still hope for you.
The truth shall make you free
If you are asking the question "Will God forgive me? Is what I have done so bad that I will be excluded from forgiveness and the kingdom of heaven?" you can rest assured that it is not. Your poverty of spirit – your acknowledgement of sin and your longing to turn from it – will lead you to repent and turn to God. It is not possible to "accidentally" blaspheme the Holy Spirit. Those who commit the unforgivable sin are not concerned; they don't worry about whether or not they are forgiven, because of their unbelief.
So be one who loves the truth. The truth shall make you free. You have such a grace over your life – you can be set free from being a slave of sin, and can be a true disciple of Jesus. (John 8:31-34) Not only is He able to forgive your sin, but He is also able to save you from sinning. Make use of this grace – He is able to completely save all those who acknowledge the truth about their need. When you receive the Holy Spirit who shows you your sin, He also gives you the power to overcome sin.
The thief on the cross was saved on his "death-bed" with nothing to take into eternity, yet Jesus said to him, "Today you will be with Me in Paradise." Isn't it much better, to repent and turn to God today, when He is speaking to your heart? Then when you die you can go straight into heaven with the assurance of eternal life if you continue on this way! Yes, you can repent and ask for forgiveness today. God will forgive you, and you can begin on this pathway of righteousness from this moment, with a conscience washed clean and justified in the name of the Lord Jesus and by the Spirit of our God.
This post is also available in
Scripture taken from the New King James Version®, unless otherwise specified. Copyright © 1982 by Thomas Nelson. Used by permission. All rights reserved.