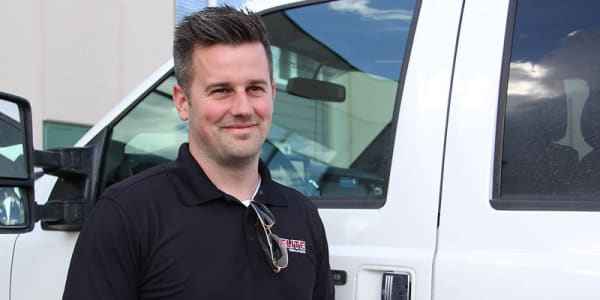 A changed man
A number of years ago, Mike tried to smuggle drugs across the US border. In prison, he made a promise that changed his life.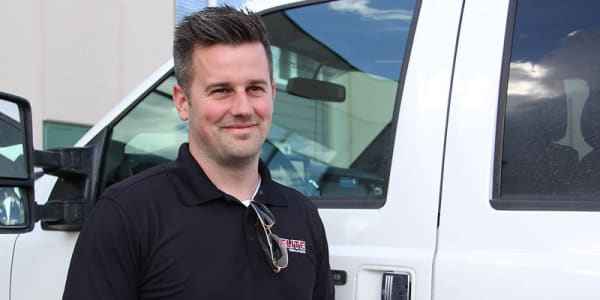 Sweat breaks out in the palms of his hands, the kind of cold sweat that makes you shiver. As he watches the imposing doors of the state prison swing open, Mike can feel the tiny hairs standing up on the back of his neck. It slowly dawns on him that he has been caught red-handed. Until that moment, he had been very sure this would never happen.
An hour before, Mike had been driving through the international border to the United States pulling a trailer, "cool as a cucumber." He was ready to take on the world! He had nothing to hide! But in truth he had spent the last day and a half preparing for this moment. He had carefully taken the time to hide fifty pounds of drugs under the floorboards of the trailer to smuggle across the border.
As he entered the jail corridor, the cockiness vanished. "Up to that point, I had been in denial. All of a sudden, I was terrified! My stomach began to churn as I realized that this was serious. I was caught and there was no way of getting out of it. I felt like I was in a bad dream and couldn't wake up."
These events took place over eight years ago. It is hard to imagine that this is the same man I am talking to today, as I sit in Mike's living room, surrounded by his wife and children.
Mike is now a family man, but even more than that—he is a dedicated Christian who has turned his life around 180 degrees. Although his life is good now, it wasn't always that way. During his teenage years, he made some bad decisions with long-term consequences.
Easy money
"I knew very well that my life was going in a bad direction," he says. He then proceeds to relate how he, at a very young age, started hanging out with the "wrong crowd" at school. This lifestyle continued throughout high school, and into his early years of adulthood.
Smoking and drinking led to drugs, and to that one fateful day when he agreed to smuggle drugs across the border into the United States. He thought it would just be easy money, and then he would be wealthy. Mike grew up in a broken home with very little money. "When I was fifteen, I made a vow in my heart, to myself, that I would never live like that, ever." He shares how he had hoped to pay back some of his debts and maybe even make enough money to help his mom get a proper house.
At the border, nothing went according to plan. His vehicle was searched, the drugs were found, and he was deservedly thrown into prison.
A promise to God
At that point, Mike knew he was at a dead end. He then describes to me in a quiet, broken voice, "Those were the worst days of my life…" He reflects and hesitates, "The only thing I knew to do was to pray—I had learnt that as a child. I promised God that if I didn't die, I would turn my life around and live completely for Him."
Mike goes on to tell of how he was surrounded by people in prison who had nothing but hate and evil on their minds. Just walking by their cells terrified him. He wished with all his heart he could have another chance.
Looking at this man now, sitting in his living room with his wife and kids close by, it is hard to imagine him any other way. He is truly a changed man! I was curious to know what had helped him change his ways. How could this be possible?
He made that promise to God in the dark prison cell and was very determined not to fail Him again. After he was released from jail, he started to attend meetings at Brunstad Christian Church, where he had gone to church as a child. It took time, but as he listened to the word of God, spoken in the spirit of faith, he received faith for himself. He saw people in whose lives he could see transformation taking place. He began to believe that it was possible for him to come to a new life! "Do not remember the former things, nor consider the ways of old. Behold I will do a new thing, now it shall spring forth; shall you not know it? I will even make a road in the wilderness and rivers in the desert." Isaiah 43:18-19
Cleaning up the past
He admits it has been a rough "wilderness" road—cleaning up his past and not drifting back to his old habits. He knew that first and foremost he had to "cut himself free" from bad company; otherwise it wouldn't be long before he was dragged back to his old ways again. This verse rang true in his heart: "Do not be deceived, evil company corrupts good morals." 1 Corinthians 15:33
Later it dawned on him that a deeper issue and the core of the problem was his own pride and love of money, which became a snare for him. "But those who desire to be rich fall into temptation and a snare, and into many foolish and harmful lusts which drown men in destruction and perdition. For the love of money is a root of all kinds of evil, for which some have strayed from the faith in their greediness and pierced themselves through with many sorrows." 1 Timothy 6:9-10
He took the next verse to heart, "But you, O man of God, flee these things and pursue righteousness, godliness, faith, love, patience, gentleness. Fight the good fight of faith…" Mike has had to fight for every inch of progress, but it has been evident to many that progress has been made. Though he was never much of a reader, the Bible has become his lifeline.
Mike still has to reap from the choices he made long ago. The fact that he has chosen to live for God doesn't just erase his past in an instant, but he is more determined than ever to hold firm to his faith in God and never turn back to his old ways.
An asset to society
Mike has devoted his time to working with the local youth group, and hopes to help make a positive difference in their lives. Some of these young people have seen Mike change before their eyes, and have been able to witness a new work in him. Where he was harsh and arrogant before, he has become gentle and caring.
When asked what he would tell young people who are facing the same pressure that he experienced when he was a teenager, he says, "I would love to spare these young girls and boys from going down the same path I did. I want to warn them to stay away from anything to do with drugs and alcohol and to be careful what friends they choose!"
He shakes his head and speaks with conviction, "Looking back, it started off as a cigarette, and then it snowballed from there. Everybody says, 'I'll just try it once,' but, it's not just once."
Mike cringes to think of the damage he could have done if his smuggling attempt had been successful. "Not a day goes by that I don't regret the stupid decisions I made."
I thanked him for being so open and honest. Here is an adult who has learnt from his mistakes and, not only that, has become an asset to society!
This post is also available in
Scripture taken from the New King James Version®, unless otherwise specified. Copyright © 1982 by Thomas Nelson. Used by permission. All rights reserved.