A life of transformation
What makes the life of a disciple so special?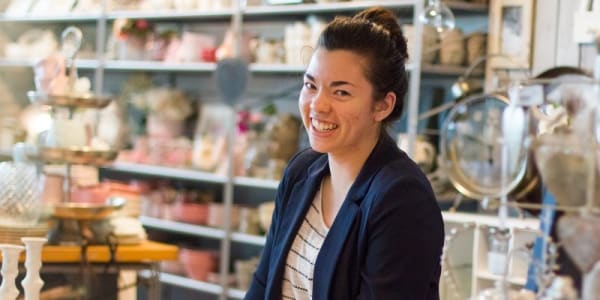 Lydia has chosen to live the life of a disciple. She experiences a transforming work on an everyday basis. Here she speaks about that transformation and the incredible impact it has had on her.
The life of a disciple is not extraordinary or markedly different on the outside. But it is how I react – how I do things and deal with things and think about things – that make this life so special.
By living according to God's Word, one can develop in the virtues of Christ, and become someone who is well-pleasing to God.
Our light affliction
I want to be much more loving. That my love is unconditional, and doesn't demand anything from the others. I want to have a divine love, that isn't greater or lesser because of how a person is or how they act.
"Therefore we do not lose heart. Even though our outward man is perishing, yet the inward man is being renewed day by day. For our light affliction, which is but for a moment, is working for us a far more exceeding and eternal weight of glory." 2 Corinthians 4:16-17.
My light affliction – the situations that I go through every day – brings me an "eternal weight of glory." It is when I choose to deny myself in these situations that exciting, incredible things happen – that's when something new is created in me, which was never there before! This is how I attain the virtues of Christ. This is how I get that divine love that I long for.
By denying myself, my inward man is renewed and cleansed. I am being changed from a self-seeking, sinful and proud human being to a person who, step by step, trial by trial, is coming to something more – coming to divine nature. (2 Peter 1:4)
Taking up a
battle

against sin

But deciding to live this life isn't an automatic ticket into heaven. It's a battle! It's not always easy to be obedient to the point where you – your own desires and lusts – no longer are allowed to live. When I do what I want for myself, instead of God's will for me, God cannot do anything in me or through me.

Sometimes it's hard to let God do this work in me, because I am tempted by something that my flesh wants; my own desires and lusts.

I say "no" to these thoughts that come up and know that God will give me the victory if I endure. As long as I keep saying "no," I have not sinned and Satan has no power over me!

I wake up in the morning and think, "Today I will take my enemies like bread. Today I will not let jealousy or complaining or anger or unrest come into my heart." And I begin my day in faith that God's word is true, and that the sin in me will not be allowed to live. Christ's life and virtues will be made manifest in me! "It is no longer I who live, but Christ lives in me; and the life which I now live in the flesh I live by faith in the Son of God." Galatians 2:20.
Progress – transformation
I can't always see when I make progress. In the moment it is sometimes hard to see exactly what has changed, but I go step by step in faith that I am being transformed. Suddenly, I see love where there was no love before. I see longsuffering where I was once impatient and frustrated. I don't get offended easily, whereas before, the smallest comment would set my thoughts running and stir up discontent, resentment and judging in my heart.
One day, these tendencies and sins that are very much a part of who I am as a person will be dead, because I give them no nourishment; I never consciously agree to them. And something that never gets food cannot survive for very long!
It really works!
I remember a good friend said once: "Press on! It works, it really works! Don't give up, don't lose faith! Stay in the battle and you will get the reward!" When I begin to get tired, for example, or am caught up (and dragged down) with the little things here on the earth, I remember these encouraging words which remind me that this fight is not in vain – there's a goal, and a reason I am striving for victory over the sin in me!
I am so glad I have chosen to live this life of a disciple. There is still much to be done. I have a lot to learn and there's a lot of wisdom out there that I don't have yet. But I have decided to follow Jesus, and there will be no turning back! I have begun on this way of transformation – I have begun to lay hold of the virtues of Christ which I long for.
Each day, I can say that I am not the same person I was yesterday! I have denied myself and taken up my cross, just as Jesus tells us to do in order to follow Him. Eternal life and virtues – they are ours for the taking! When we go by faith into battle, God is with us, and will give us more than victory!
This post is available in
Scripture taken from the New King James Version®, unless otherwise specified. Copyright © 1982 by Thomas Nelson. Used by permission. All rights reserved.