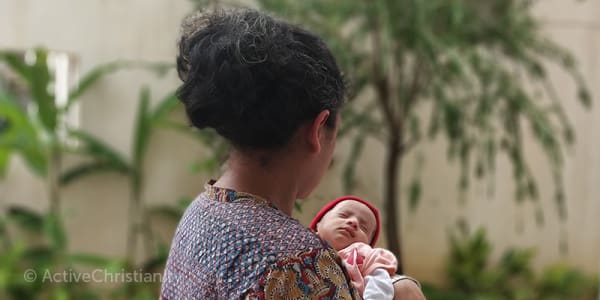 Believe in the God of miracles!
Comparing our situation to the children of Israel crossing the Red Sea, I understood: There is a promise for those who cross in faith.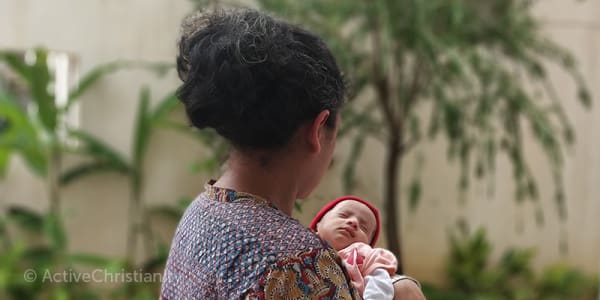 It was August 30, 2018 and our whole family was ready to welcome our yet-to-be-born child. A baby in the family after nearly five years! My wife, Neema, and I were all set to go to the hospital for the delivery, along with Neema's father, and a friend had come to stay with our other five children.
As we reached the hospital and Neema was wheeled into the labor room, I waited outside with my father-in-law. I needed to step out for a bit, and when I came back, I found my father-in-law in the chapel of the hospital. His eyes were red, and he motioned to me with his hands saying, "No fetal heartbeat."
The news was like a thunderbolt; most unexpected and shocking. There had been absolutely no indication of any abnormality. How could anyone receive such news? Thoughts started racing in my mind.
Judah
Then I saw a verse on a plaque on the hospital wall: "I have come that they may have life, and that they may have it more abundantly." John 10:10. As I believed that verse, peace filled my heart. Our baby who died in the womb was also part of Jesus' love for us. He loves us so much that He wants us to have life – righteousness, peace and joy in abundance – not just for this life, but for all eternity. And not just a little bit, but in all its fullness. That is a tremendous promise!
"For I know the thoughts that I think toward you, says the Lord, thoughts of peace and not of evil, to give you a future and a hope." Jeremiah 29:11.
This situation, too, was God's mighty hand over us. We read in 1 Peter 5:6: "Therefore humble yourselves under the mighty hand of God, that He may exalt you in due time, casting all your care upon Him, for He cares for you." Yes, this was the time to humble ourselves under His mighty hands, so He could exalt us with His divine nature. Think that God wants to share His own nature with us! (2 Peter 1:4.)
We named the child Judah. As we reflected on the situation over the next few weeks, we came to understand that this is a "momentary and light affliction which is working in us a far more exceeding weight of glory." 2 Corinthians 4:17. Judah opened heaven and everything that is pure and noble for us. The situation made us so much more sensitive to God's promptings. Of course, there was grief, but there was thankfulness as well. Judah was the first one in our family to be home with Jesus. It increased our resolve to pray and battle for our children, both in the family and the church, so each one of them is preserved in Christ and that they will all meet Jesus one day.
Time slowly soothed the grief of losing Judah. Sometimes we saw something that reminded us of him, and sorrow would overwhelm us. Several of our friends had babies around that time, and each time we were reminded of the joy we would have had of having a baby at home. But we trusted in God's perfect plan for us.
Continue reading below ↓
Like what you're reading?
My Presence will go with you
In November 2019, we found out we were expecting again. We were very happy, but both of us knew that the next nine months were not going to be easy; we would have to fight anxiety. We held onto this verse from 2 Timothy 1:7: "For God has not given us a spirit of fear, but of power and of love and of a sound mind."
Around the fifth month of the pregnancy, the Covid-19 pandemic struck India. This was a time when hardly anyone stepped out of the house. But with Neema's age and history, we had no choice but to go to doctor's appointments. And as Neema's due date approached, the frequency of the visits increased too. By July 2020, when Neema was due, the pandemic had reached the peak of the first wave in Bangalore. Hospitals were running out of beds for Covid-19 patients and the situation was very bad.
Two days before delivery, Neema took a mandatory Covid-19 test and it returned positive. We were not prepared for this. The first thoughts were of fear and anger: Did God really think we would be able to bear this? But God is good. He gives a word to hold onto in the time of trial. The phrase that came to me then was "The Red Sea." Yes, this was like the Red Sea, which the children of Israel had to cross. And the promise for those who cross is clearly written in Exodus 14:13: "And Moses said to the people, 'Do not be afraid. Stand still, and see the salvation of the Lord …'" And in Exodus 33:14: "My Presence will go with you …"
We were the first home in our apartment complex of 40+ homes to have a confirmed Covid-19 case. None of us could step out of the house. Pregnant women with Covid-19 were in the high-risk category, but the hospital could only admit Neema if a bed in the Covid-ward was available, and none were. If Neema went into labor and no bed was available, she would have to deliver in some hospital which the government determined, and the city was bursting at the seams with full hospital beds.
But God is good. He does not test us beyond what we can bear. Neema did not go into labor before a bed in the Covid-ward was available. As she left home and got into the ambulance, I sensed that a tremendous peace had filled her. No one could accompany her to the hospital. Her one prayer was that she wanted to be filled with God's Holy Spirit, and God had indeed filled her. She told me: "Ray, I can sense Jesus' Presence right next to me." Friends in the local church and in many parts of the world were praying for her. She sent a note of thankfulness to the friends:
"Thank you, dear friends ... I go with God's protection even though I may be contagious and infected. My God will not forsake me or my family ... I hold onto the promise I received earlier from Psalm 91:7-12: 'A thousand may fall at your side, and ten thousand at your right hand; but it shall not come near you ... for He shall give His angels charge over you, to keep you in all your ways. In their hands they shall bear you up, lest you dash your foot against a stone.'"
Those who trust in the Lord, who can laugh at times to come
At home with the children, I started experiencing some symptoms too, with an unusual pain in the chest. But God helped me to get on with the work at home and not be anxious. The children did not fall sick either. God does not test us beyond what we can bear! He even opened the hearts of our neighbors, who supplied us with many meals during this time.
Meanwhile, Neema was induced to labor, but it wasn't progressing. The doctor messaged me that given her condition, doing a C-section was something he would absolutely want to avoid. As time went on, his messages indicated that he was in a dilemma. But friends from around the world were praying for us. At home, I called the children together and we prayed. Within half an hour, I heard that the baby had been delivered. The doctor later messaged me that it was a miracle that Neema delivered normally. We had finally crossed the Red Sea!
After Neema came back home she had to be in quarantine for two weeks. It was strange to have a new-born at home without any of us having the opportunity to hold the baby. But at the end of two weeks all of us were fine and there was much rejoicing. Recovery for Neema has been slow and we have had to make multiple hospital trips. But the joy of the Lord is our strength. And the joy that our little baby brought us is beyond words. We named him "Isaac" which means "he will laugh." In these times of uncertainty, it is only those who trust in the Lord who can laugh at times to come.
In Jeremiah 31:13 we read: "For I will turn their mourning into joy, will comfort them, and make them rejoice rather than sorrow." The Lord indeed turned our mourning to joy!
This post is also available in
Scripture taken from the New King James Version®, unless otherwise specified. Copyright © 1982 by Thomas Nelson. Used by permission. All rights reserved.