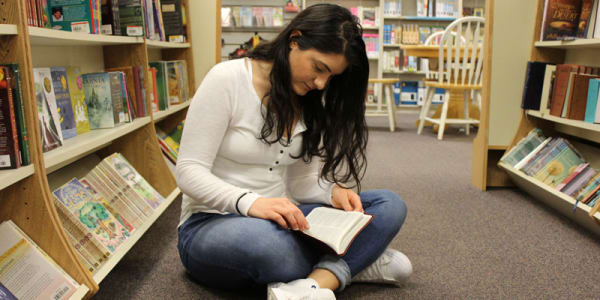 How my Bible became my chief interest
Nothing else can provide the help and comfort that we find in the Word of God.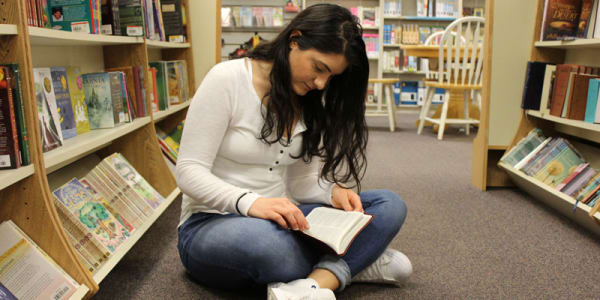 I would have easily grabbed the latest issue of my favorite magazine before I even thought to pick up my Bible. I had much preferred the glossy pages filled with colorful outfits and beauty how-tos over scriptures and parables. My interests lay in the trending fashions and latest gossip. But when I came into a situation that made me sad and unrestful, nothing in those 196 pages could lift my spirits or give me comfort.
I was flying across the country for my grandpa's funeral. I had time to kill before boarding so I sat at the gate and people-watched for a bit. A middle-aged woman was engulfed in a self-help book. A few girls traveling together each had their headphones on and were bobbing their heads rhythmically to the music. Across the hall was a bookstand selling New York Times bestsellers and hundreds of the latest magazines. TVs strategically placed around the airport shared the news and weather. I noted an older man walking with a cane to his gate; this instantly brought a wave of melancholic emotions through me. I was sad that my grandpa had passed, angry I couldn't say goodbye, nervous about going to the funeral, scared about how my grandma was doing.
I flipped through a magazine, but everything in there made me more anxious. How could the Paris fashion week highlights guarantee my grandma was going to be okay? I could read the article a hundred times, but there was no promise that the funeral would go smoothly. I put some music on for a distraction, but no love ballad or new pop beat could bring me any comfort. My foot tapped, not with the rhythm of the songs, but out of stress.
I have a Bible app on my phone and I opened it. The verse of the day was Isaiah 26:3. "You will keep him in perfect peace, whose mind is stayed on You, because he trusts in You." I reread this verse maybe a dozen times. He will keep me in perfect peace. I typed the word "peace" into the search bar, hungry for more. The verse in Philippians 4:7 appeared saying, "and the peace of God, which surpasses all understanding, will guard your hearts and minds through Christ Jesus." I continued to search through the Bible app, verse after verse with these promises of peace and joy. No magazine offered me that. I decided to pray to God. Here in the Bible He assures rest so therefore I shall ask for rest. A smile flooded my face. I was no longer sad, angry, nervous or scared. I was at peace.
Continue reading below ↓
Like what you're reading?
An interest that leads to peace and rest
When we develop an interest or hobby we tend to become consumed in that and only that. We inhale all the information we can get on the subject – browse webpages, read books, try to strike up casual conversations with friends on the topic, follow different accounts and blogs. An interest in God's Word works the exact same, but instead of tired conversations and empty information, we become full of a rich blessing and radiate happiness.
Jesus teaches us to have one and only one interest in our lives, and that is to serve the living God and to do His will. Hebrews 10:5. God's Word is full of promises, which He will fulfill in those who have their full interest in Him. It is easy to gauge if your one interest is in Him or if it is shared between a few things. When it is shared you will be out of rest and indecisive, while when your interest is in God, it is the very opposite. It is impossible to be unhappy when you have your interest in God's Word. In this time when we try to maintain all our social media networks, study for our education, work for that promotion, and try to excel in our hobbies, it is very easy to place our interests in these things. But your thoughts will be scattered; you will become stressed and unhappy. It is written very clearly in the Bible that our thoughts should be on the kingdom above and not on this earth, then we will be added to. (Luke 12:31 and Colossians 3:2)
Practice makes perfect
Like all other interests, you don't do a quick search, practice once, and call yourself an expert. No, God's Word requires practice, practice and more practice. Every day, from the moment you wake until you sleep again at night, God's words are powerful tools that you use to fight against unhappiness, anxiety, fear, etc. There is a verse in the Bible for absolutely every situation you may come into. Just by searching simple words on my app I could relieve myself of all those emotions that had overwhelmed me previously.
From that situation on I started to train myself to pick up my Bible right when I started to feel unhappy or anxious and I was able to quickly become happy and at peace again. Then I started to read it even in between situations, just to be prepared for when they come. Now, I have tasted this peace and happiness many times since and it's such a wonderful place to be and stay in.
My interest is now in God's Word. There, and only there, is where I can find true comfort, happiness, joy, peace and hope.
Scripture taken from the New King James Version®, unless otherwise specified. Copyright © 1982 by Thomas Nelson. Used by permission. All rights reserved.