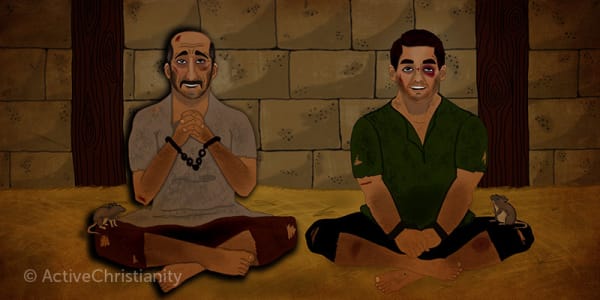 Paul and Silas: Strengthened in their inner man
Have you ever wondered how Paul and Silas were able to keep their joy while they were imprisoned?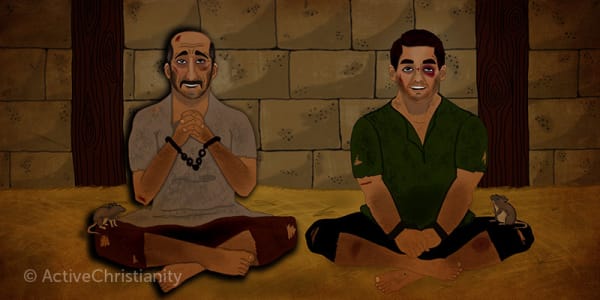 In spite of being scourged and imprisoned, Paul and Silas could keep their minds in Christ Jesus, praying to God and singing praises to Him so that the entire prison shook, chains were loosed, and the doors opened! How were they able to do this? (Acts 16:22-35.)
Do not look at the external!
"That He would grant you, according to the riches of His glory, to be strengthened with might through His Spirit in the inner man, that Christ may dwell in your hearts through faith; that you, being rooted and grounded in love, may be able to comprehend with all the saints what is the width and length and depth and height …" Ephesians 3:16-19.
External circumstances exercise a profound influence on us as natural human beings. These circumstances can be extremely variable as well as very difficult. Our inner man is our relationship to God and His laws. (Romans 7:22-23.) Paul prays that we may be strengthened with might through His Spirit. This means that we have strength to preserve our relationship to God and meditate on His laws so we can abide in them, regardless of our external circumstances! By abiding in the law of the Spirit of life, we are set free from sin and death, and our tribulations work for us a far more exceeding and eternal weight of glory. (Romans 8:2; 2 Corinthians 4:17-18.)
It is a question of what we look at—the things that are seen or the things that are not seen. Those who cannot keep their connection with God look at the external things. Then they end up under the law of sin and death, and everything becomes difficult and burdensome. Therefore, it is vital that our inner man is strengthened by the Spirit—just as Paul and Silas were.
"That you, being rooted and grounded in love, may be able to comprehend …" It is difficult to deal with each other as natural human beings. Therefore, becoming one is most difficult of all. We are so easily brought out of love by what is said or done if we are not grounded in love. Then we cannot comprehend what leads to life and peace. If we are grounded in love, if we have strength in our inner man to abide in the law of the Spirit of life regardless of what is being said and done, we understand, because of the Spirit's promptings in our heart, what we have to do that makes for life and peace! (Romans 8:6.)
Continue reading below ↓
Like what you're reading?
Paul and Silas' external circumstances
When we think of the external circumstances in which Paul was when he gave this exhortation, "Rejoice in the Lord always, and again I will say, rejoice!" we will understand what it means to have a strengthened, inner man. When we think about it, Paul's exhortations will also have more weight.
Without being influenced by his physical needs and the uncertainty in which he lived—whether he would be condemned to death or not—he drew from God's fullness in his inner man and wrote epistles to the Ephesians, to the Philippians, etc. "That you may be filled with all the fullness of God." This is the kind of exhortation he gave. Then he wrote further: "And the peace of God, which surpasses all understanding, will guard your hearts and minds through Christ Jesus." (Philippians 1:12-21; Ephesians 3:19; Philippians 4:4-7.)
As you can see, this is the secret of growing in God and a happy life. Then the outcome from all our circumstances will be glorious. This is how Paul and Silas were able to pray and sing in prison. We can see the outcome of it all. The jailer and his entire household were saved.
This will be the outcome for all of us regardless of what kind of prison or situation we are in when the Spirit strengthens our inner man so that our hearts and minds are preserved in Christ Jesus. Then all the doors will open, and all the chains will fall off, just as for Paul and Silas.

This article has been translated from Norwegian, and is a slightly edited version of an article that was first published in BCC's periodical Skjulte Skatter (Hidden Treasures) in May 1965, under the title "The inner man."
© Copyright Stiftelsen Skjulte Skatters Forlag
This post is also available in
Scripture taken from the New King James Version®, unless otherwise specified. Copyright © 1982 by Thomas Nelson. Used by permission. All rights reserved.