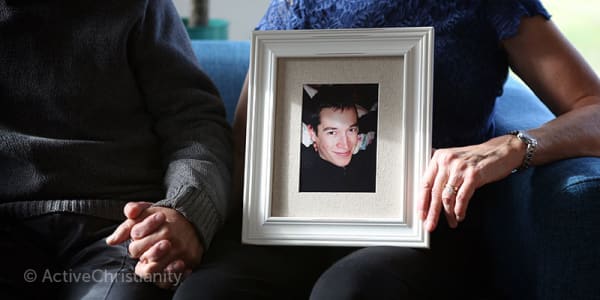 Losing Joe
Throughout our journey through grief and loss I experienced that God was very near.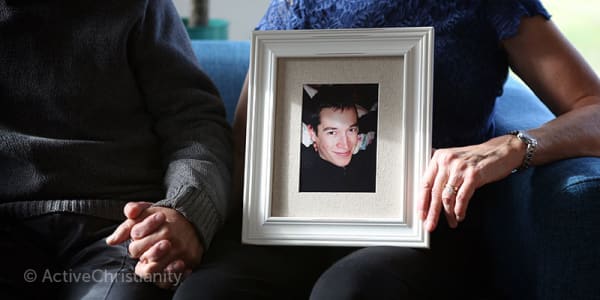 The morning of June 10th, 2010 dawned as any other normal day. Little did we know, it would be a day that forever changed our lives. A phone call late in the afternoon, from a nearby hospital, brought the news that no parent wants to hear. Our precious, 21-year-old son, Joe had had been involved in a fatal car accident. I could not comprehend my husband's words as he gently told me that Joe was "gone." Only when I stood quietly in the hospital by his still, lifeless form, amazingly perfect after such an accident, did the impact of "gone" start sinking in.
Dealing with grief and loss
Thus began our family's journey of dealing with grief and loss. Looking back, I can see how God had prepared my heart for Joe's death, even though I was not consciously aware of it. But of course, it was still a great shock when he died.
I remember how, in the rawness of grief and shock, it felt like a sword had been thrust through my heart, so intense was my anguish. I could not shed a tear; I could only moan. But, right there in that state, I sensed that Jesus was very near, as if His arms were embracing me. I believe Jesus stayed right beside me all through those first nights, because I slept like a baby in spite of my deep distress. I felt like heaven was open over me, and that I was surrounded by angels. I am so thankful that God was right there for all of us! Those words became a reality that "… the Lord gave, and the Lord had taken away; blessed be the name of the Lord." Job 1:21.
I can honestly say that even with the grief and loss, and the incredible shock that comes from a sudden death, Joe's death was the most beautiful experience I have ever had. Heaven was very near! Our closest friends were also an immense comfort to us by sharing in our grief and helping to support us. Our family was enveloped by love and care, both from God and people.
Continue reading below ↓
Like what you're reading?
God makes no mistakes
It quickly became clear to us on hearing of Joe's death that God makes no mistakes, and that he had deemed Joe ready to be taken. As his mother, I never have wished him back to this earth, or questioned God's perfect leading in taking him. God took him home to Himself in just the right time. Just as one would pick a ripe fruit from the tree, God had simply plucked Joe from this earth. That thought brought deep peace to our hearts and souls.
Joe was given to us as a gift from God. His death made me realize how truly our children do not belong to us; they belong to God. When God took Joe, He had only taken back what was rightfully His all along. God had graciously given him to us for a time, and now I could, in a sense, give Him back to God, His Creator. I was reminded of Hannah in the days of old. She had prayed to God for a child, and according to her promise to God, she gave Samuel back to the Lord to serve with Eli the priest in the temple. I wonder if she experienced the mixture of grief and joy like I felt. Grief at the thought of my son being gone forever, but at the same time, joy at the thought of him forever safe in heaven!
Joe's life
Joe had lived his short life well. He had given his life wholeheartedly to God as a young teen, and he became an example to all who knew him. He loved God with all his heart! A friend who knew him well wrote these words to us after his death: "Blessed is the memory of the righteous – Joe. Blessed are the pure in heart – Joe. Blessed are they who hunger and thirst after righteousness – Joe. Blessed are those who walk not in the counsel of the ungodly – Joe." Another dear friend described Joe as a wholehearted, boiling hot, fervent, diligent young man.
Although our family knew Joe as a quiet, gentle boy, he became a bold, dedicated Christian, an instrument of God who was not afraid to defend his faith, and fight for purity at high school or wherever he was. His wholehearted fervency brought a reproach over his life, but also a quiet admiration and respect in the hearts of God-fearing people.
Joe gained power in his life by nourishing himself with God's Word. He could often be found diligently reading literature that inspired him to be a better person. He spent time reading his Bible, and praying for himself and others. After his death, we found his open Bible by his bed, along with a little notebook in which were written many names, scratched out in his awkward cursive. It was his "prayer list."
After his death, we were often amazed to hear from young and old how Joe had reached out to them, and touched their lives in some way. He especially had a keen eye and a heart of compassion for children, young people, and older people who had a disability, or were fragile in their mind, or for those who might have been forgotten. He warmed them by trying to meet a need in their hearts with gentle words and kind deeds.
God did a deep and quick work in Joe's life because he was humble of heart. He was also filled with a spirit of faith for his life! Near the end of his life, he wrote to a friend: "I need to become rooted and grounded in lowliness. We are so weak as men; we need godly fear. God is so good that He wants to do a tremendous work in us, we who have been slaves of sin. He will transform us totally and completely, and He will give us all that we need to reach the goal. In the end we will stand on Mount Zion, together with Jesus and all the saints who have battled here on earth, singing the new song. It shall succeed!"
After his death, one of Joe's close friends wrote us these good words: "Joe understood that he was God's house: a house that both came from God, and that ought to be given back to God. Joe uprightly offered himself willingly to God to such an extent that God has now received him to Himself. I shall follow that example at all times."
Looking ahead …
Joe's death changed me in many ways, and taught me many valuable things. It softened my heart towards other people, and gave me a desire to learn to rejoice with those who rejoice, and to weep with those who weep. It gave me new eyes to see how precious and valuable each one of my children and grandchildren are. It gave me a long-sighted vision of eternity to do whatever it takes to battle for each one of them so they too can come to where Joe now is. It made me want to use each opportunity to do the good, and to conquer over sin, because life is so short. It made me realize that there is nothing to fear, not even losing a child, for God is with us through absolutely everything! That God can take something that is humanly an immense tragedy and turn it into something incredibly beautiful, if I put my trust in Him. It made me realize that I never, ever need to question anything that God brings my way. His ways and His thoughts are much higher than mine. He knows what is best for me! His way is perfect. Joe's death has given me a connection to eternity and heaven that I did not have before. I think about heaven. I think about what it will be like to be together with Joe someday if I am faithful in my life here on earth.
The gentle flame of Joe's candle is extinguished here on this earth, but he will shine forever in the eternal habitations. It is a comfort for me to think that Joe is now part of the great cloud of witnesses, and that he is cheering me on in my battle of faith.
Six years after Joe's death, we went on to lose a 32-year-old daughter. We can testify that God is faithful. He carried our whole family through yet another time of loss and grief.
This post is also available in
Scripture taken from the New King James Version®, unless otherwise specified. Copyright © 1982 by Thomas Nelson. Used by permission. All rights reserved.