4 steps to putting the past behind you
You may regret the past, but through forgiveness you can look forward to an incredible future.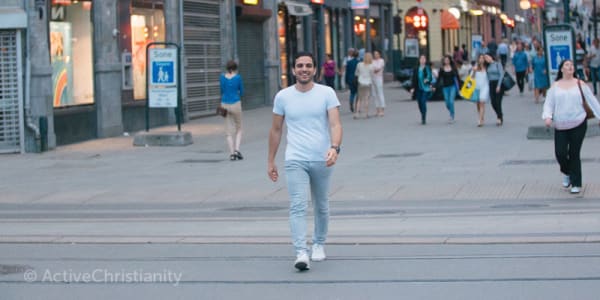 Put the past behind you
God has promised a new life to anyone who believes in Jesus. Putting the past behind you is life-changing, and God will help and strengthen you every step of the way.
Step 1: Confessing, repenting, and asking for forgiveness
You see your past sins and you realize that you need to change. To repent and put the past behind you means that you not only regret the past, but that you have a complete change of heart, in which you make a covenant with God that you don't want to live this way anymore. You confess your sins to God, and pray that He will forgive you.
"If we confess our sins, He is faithful and just to forgive us our sins and to cleanse us from all unrighteousness." 1 John 1:9.
"Create in me a clean heart, O God, and renew a steadfast spirit within me." Psalm 51:10.
Read more here: An open door awaits you
Continue reading below ↓
Like what you're reading?
Step 2: We receive forgiveness
The slate is wiped clean and you get a fresh new start. The guilt of sins you committed in the past is taken away through forgiveness. You never have to worry about your past sins being held to your account, because they are forgiven entirely. Now you have the chance for a complete turnaround; a whole new life; you can put the past behind you.
"He will again have compassion on us, and will subdue our iniquities. You will cast all our sins into the depths of the sea." Micah 7:19.
"He has delivered us from the power of darkness and conveyed us into the kingdom of the Son of His love, in whom we have redemption through His blood, the forgiveness of sins." Colossians 1:13-14.
"Then He adds, 'Their sins and their lawless deeds I will remember no more.'" Hebrews 10:17.
"As far as the east is from the west, so far has He removed our transgressions from us. As a father pities his children, so the Lord pities those who fear Him." Psalm 103:12-13.
Read more here: Have I gone too far for forgiveness?
Step 3: We get a new heart and a new mind
Your entire attitude of mind changes. Even though you are still tempted, you have a new heart and mind that God has given you, and your desire now is only for the good. Instead of pursuing your old habits and interests, your interest is in the kingdom of heaven and you seek the things which are above with Christ. (Colossians 3:1.) You no longer have to be a slave to committing sin just because you are tempted. Through the power of the Holy Spirit you can overcome the lusts and desires of your nature. (Romans 8:12)
"Do not remember the former things, nor consider the things of old. Behold, I will do a new thing, now it shall spring forth; shall you not know it? I will even make a road in the wilderness and rivers in the desert." Isaiah 43:18-19.
"I will give you a new heart and put a new spirit within you; I will take the heart of stone out of your flesh and give you a heart of flesh." Ezekiel 36:26.
"Therefore, if anyone is in Christ, he is a new creation; old things have passed away; behold, all things have become new." 2 Corinthians 5:17.
"I have been crucified with Christ; it is no longer I who live, but Christ lives in me; and the life which I now live in the flesh I live by faith in the Son of God, who loved me and gave Himself for me." Galatians 2:20.
Read more here: Living faith: become a new creation
Step 4: We move forward on the new and living way
Now you are ready to move forward, striving for a life in Christ. Your love for Jesus and your gratitude for all that He has done for you drive you to follow Him as a true disciple. (Luke 9:23.) Discouragement, laziness, hopelessness and the like have no place in your heart because you believe what God's word says. You have put the past firmly behind you, no matter what Satan may try to tell you, and the future is full of hope and faith.
"Brethren, I do not count myself to have apprehended; but one thing I do, forgetting those things which are behind and reaching forward to those things which are ahead, I press toward the goal for the prize of the upward call of God in Christ Jesus." Philippians 3:13-14.
"But Jesus said to him, 'No one, having put his hand to the plow, and looking back, is fit for the kingdom of God.'" Luke 9:62.
"For if you live according to the flesh you will die; but if by the Spirit you put to death the deeds of the body, you will live. For as many as are led by the Spirit of God, these are sons of God." Romans 8:13-14.
This post is also available in
Scripture taken from the New King James Version®, unless otherwise specified. Copyright © 1982 by Thomas Nelson. Used by permission. All rights reserved.