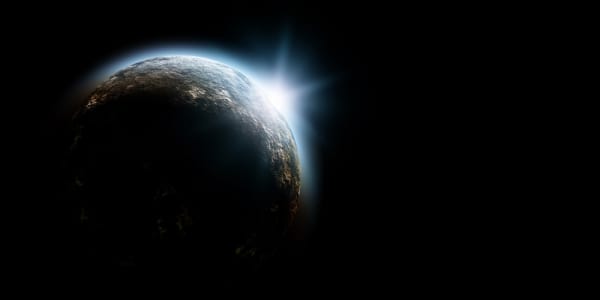 God's marvelous light
God's word brings warmth and marvelous light for rebirth, growth and development in Him.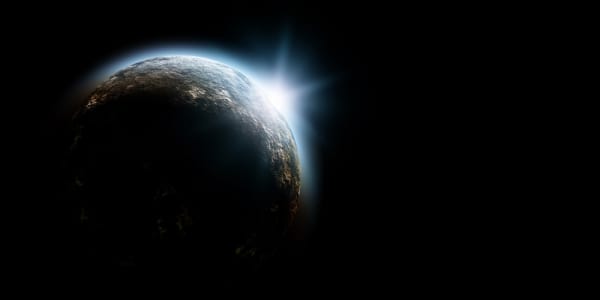 "But you are a chosen generation, a royal priesthood, a holy nation, His own special people, that you may proclaim the praises of Him who called you out of darkness into His marvelous light; who once were not a people but are now the people of God, who had not obtained mercy but now have obtained mercy." 1 Peter 2:9-10.
Darkness: The state of a person who is not
born again
"In the beginning God created the heavens and the earth. The earth was without form, and void; and darkness was on the face of the deep. And the Spirit of God was hovering over the face of the waters." Genesis 1:1-2.
The earth was without form and void, and there was total darkness. This is the state of a person who is not born again. "This I say, therefore, and testify in the Lord, that you should no longer walk as the rest of the Gentiles walk, in the futility of their mind, having their understanding darkened, being alienated from the life of God, because of the ignorance that is in them, because of the hardening of their heart; who, being past feeling, have given themselves over to licentiousness, to work all uncleanness with greediness." Ephesians 4:17-19.
"As it is written: 'There is none righteous, no, not one; there is none who understands; there is none who seeks after God. They have all gone out of the way; they have together become unprofitable; there is none who does good, no, not one.'" Romans 3:10-12.
Here we see the need for a profound salvation. What did God do in the beginning with the desolate, void and dark earth?
Continue reading below ↓
Like what you're reading?
God's word creates light and warmth for growth
"Then God said, 'Let there be light'; and there was light. And God saw the light, that it was good; and God divided the light from the darkness." Genesis 1:3-4.
After God had done this, the earth was no longer without form and void. God's word also provided warmth. We read further in Genesis 1:12, "And the earth brought forth grass, the herb that yields seed according to its kind, and the tree that yields fruit, whose seed is in itself according to its kind. And God saw that it was good."
God does the same for a person who lives in darkness and who is in need. David testified very clearly about this in Psalm 40:1-3, "I waited patiently for the Lord; and He inclined to me, and heard my cry. He also brought me up out of a horrible pit, out of the miry clay, and set my feet upon a rock, and established my steps. He has put a new song in my mouth—praise to our God; many will see it and fear, and will trust in the Lord."
When Paul went to Damascus, he was in great darkness, but on the way a light shone around him from heaven. (Acts 9:3.) After this he was a new Paul, and he said, "Therefore, if anyone is in Christ, he is a new creation; old things have passed away; behold, all things have become new." 2 Corinthians 5:17. The old, miserable person, who is so full of criticism, accusation, discouragement, envy, demands, etc., is gone. "This was the Lord's doing; it is marvelous in our eyes." Psalms 118:23.
The results of God's marvelous light
Many people in our midst can confirm that they have experienced such a new birth. The eyes of their hearts have been enlightened, and they can clearly see what the hope of His calling is, and what the riches of the glory of His inheritance in the saints are, and what is the exceeding greatness of His power toward us who believe. This power makes it possible for us to overcome all sin and really experience that the hope of obtaining divine nature will not be put to shame. (Romans 5:5.)
God's light also gives warmth in our hearts, and thus we can manifest an abundance of the fruit of the Spirit. (Galatians 5:22.)
"For it is the God who commanded light to shine out of darkness who has shone in our hearts to give the light of the knowledge of the glory of God in the face of Jesus Christ." 2 Corinthians 4:6.
Such a radiance of Christ's virtues is extremely pleasing to God, to our marriage partner, to our children, and to the brotherhood. Let us truly walk in the light, so that the blood of Jesus can cleanse us from all sin that we discover in the light. (1 John 1:7.) By walking in the light we resist sin until bloodshed, and when blood has been shed, death over sin takes place. There is no deeper cleansing than death.
"Therefore, since Christ suffered for us in the flesh, arm yourselves also with the same mind, for he who has suffered in the flesh has ceased from sin …" 1 Peter 4:1.
Praise be to God who called us from darkness into His marvelous light!
This article has been translated from Norwegian, and was first published in the periodical Skjulte Skater (Hidden Treasures) in May 2006.
© Copyright Stiftelsen Skjulte Skatters Forlag | ActiveChristianity
Scripture taken from the New King James Version®, unless otherwise specified. Copyright © 1982 by Thomas Nelson. Used by permission. All rights reserved.