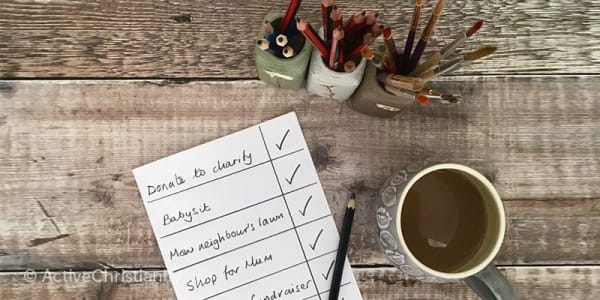 How many boxes do I tick?
If there was a "good person" list, I could have filled it out pretty successfully …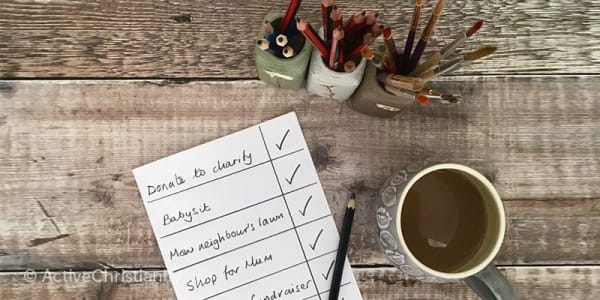 On paper, I'm a good person …
Sometimes I dip into our town's Facebook page. The site is there for local information – road closures, shop opening times, stolen bikes and lost dogs – and it is very useful. But local residents are not content with the mere giving and receiving of information. Any post can attract the expression of forcible opinions which develop into heated discussions very quickly and then escalate into rants. From this I have learnt two things.
How angry people get over minor issues.

What the general judgement is of a "good person."
Apparently, if you give to charity, don't cut in to traffic at speed, have owned a dog or cat and always recycle plastic then you are a good person. The bar is certainly set low.
I tick a lot of the "good" boxes, so I pass as a good person by these criteria. And, in addition, I have never been arrested, I pay my bills and don't shout at people in the street. If I were to judge myself by the opinion of others, I think I would be OK. And if we use these criteria, many people in my home town are good people, because they tick these boxes too.
The problem with this is that the assessment of what is good is being set by people. Every country and every society has its own set of values about what is commendable, and although this can alter from culture to culture and even from generation to generation, there is one thing that remains the same: all these judgements are based on what others can see and hear.
Who gets to decide?
Continue reading below ↓
Like what you're reading?
Beneath the surface
What if there is a Creator who knows us better than we do ourselves, and who understands what our motives are and what we are thinking?
If there is no Creator then I can think what I like and still look good to other people. I can be a good person on paper, but inside I can be jealous, bitter and resentful, tell lies and make out my motives are good when they aren't.
But, if I believe that there is a God who understands my deepest thoughts, and yet I am satisfied with looking good to other people, then I am a hypocrite.
When we really get to know God, we start looking at ourselves in a new way, and He reveals what we are like bit by bit. He peels away our nature in front of our eyes like the paper skins of an onion. When we see our underhand motives, our smugness and sense of importance we should hate it. This was one of the things Jesus spoke most forcibly about.
"Woe to you, scribes and Pharisees, hypocrites! For you are like whitewashed tombs which indeed appear beautiful outwardly, but inside are full of dead men's bones and all uncleanness." Matthew 23:27.
It's not the atheist who is a hypocrite, it's the apathetic believer who is satisfied with the "whitewash" of the lifestyle and social standing of being part of a church community.
A whitewashed Christian?
I first realised that I was "full of dead men's bones" after I had been a Christian for several years. When we were young my husband and I had been quickly appointed youth leaders for an evangelical Baptist church. We were the right age, had no ties, no children, plenty of time to give – we were "perfect." What these elders who appointed us didn't know was that we argued on the way to every church meeting, praised the Lord and were all smiles while we were there, then picked up each spiteful argument as soon as we left, and would continue it all the way home.
What saved us from remaining whitewashed? It was when we started to read what was actually written in the Bible, and not what we thought it said. When we didn't just pick out our favourite verses about blessings and salvation, but started to read about what we were actually like. Verses like this:
"But be doers of the word, and not hearers only, deceiving yourselves. For if anyone is a hearer of the word and not a doer, he is like a man observing his natural face in a mirror; for he observes himself, goes away, and immediately forgets what kind of man he was." James 1:22-24.
And instead of arguing and blaming each other, we began to judge ourselves and notice what had motivated us to react in a bad way. We started being aware of what we must change in ourselves rather than trying to judge and change each other. Above all, we started to use the word of God to help free us from our nature.
Forty years later we have long since given up trying to look good to people, and by God's grace, we are free of the whitewash.
"For the word of God is living and powerful, and … is a discerner of the thoughts and intents of the heart. And there is no creature hidden from His sight, but all things are naked and open to the eyes of Him to whom we must give account." Hebrews 4:12-13.
This post is also available in
Scripture taken from the New King James Version®, unless otherwise specified. Copyright © 1982 by Thomas Nelson. Used by permission. All rights reserved.