Feeling guilty for being tempted?
Temptation is nothing to feel guilty about. Here's why …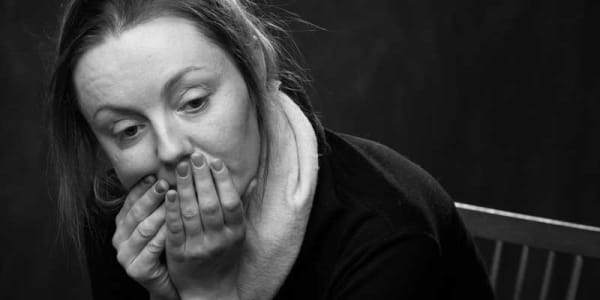 You are not evil because you are tempted to look at unclean things.
You are not a horrible mother because you are tempted to yell at your kids out of impatience or frustration.
You are not condemned because you are tempted to doubt.
You are tempted because …
These temptations come as a result of the sin in your flesh, and it is not because something is wrong with you that you have sin in your flesh.
"No temptation has overtaken you except such as is common to man …" 1 Corinthians 10:13.
It is because of the fall that all mankind has these innate passions and desires which tempt us to sin.
But the intention is that we should rule over our flesh, not that it should rule over us! (Genesis 4:7.) We are not to be slaves to sin, giving in to the feelings that it causes to rise up in us. Impure thoughts, irritation, doubt, these things should not bind us.
When, for example, you feel impatient, and you are tempted to yell at your kids, know that you have not at that point sinned! You may feel like you have, because a temptation comes as a feeling that you would like to do something. But as long as you hate that impatience and resist the temptation to yell at your kids, as long as you haven't consciously agreed that you will allow the impatience to rule your actions, and allowed harsh words and behavior come out of you, then you are overcoming, even if the feeling of impatience carries on for a while.
Continue reading below ↓
Like what you're reading?
A temptation to-do list:
There are two things that are important to do when you experience these strong temptations.
Use God's word as a sword against the devil, who comes to try to convince you to give in to temptation. "It'll feel good," he tells you. Or, "They deserve it." In the garden of Eden he said to Eve: "Has God really said …?" and convinced her that what she actually knew was wrong wouldn't really be disobedience to God. But when Jesus, our example and leader, was tempted in the wilderness, He said: "Away with you Satan! For it is written …" And He used the Word of God to send the devil packing.
And in order to have a word of God to use at the time when you need it, then you need to be prepared before you even come to the moment where you are tempted. You need to know His word. "Your word I have hidden in my heart," wrote the Psalmist, "that I might not sin against You." Psalm 119:11. Hide His word in your heart as well, so that you have it when you need it!
Go to the throne of grace to get mercy and grace to help in your time of need. (Hebrews 4:16.) Your time of need is the time in which you are tempted. Then you can pray to receive help to overcome the temptation. And that help isn't that the temptation disappears, and that you no longer feel impatient, but rather that you receive strength and power to resist the temptation until it is fully overcome.
Further reading: How to get help when you need it most
Learning from temptation
"My little children, these things I write to you, so that you may not sin. And if anyone sins, we have an Advocate with the Father, Jesus Christ the righteous." 1 John 2:1.
If you do fall, then you can repent and be forgiven. The throne of grace is also for that. But the intention isn't that you should fall time after time. Remember, you are to rule over sin! If you do fall, then the intention is that you learn from your mistakes, and do it better next time. That you prepare yourself before you are tempted, then you can be sure you will overcome!
It may take time until you come to victory. When you acknowledge the truth about yourself – for example, that you have a tendency to get impatient – and make the decision to overcome that, it doesn't mean that you will magically stop being tempted to it. What it means is that you will be tempted, and you may even fall again before you come to victory. But if you continue to fight, steadfast in your faith, seeking help in God's word and in prayer, then you will, bit by bit, finally overcome it all. You will be transformed and renewed and where impatience and frustration used to be a part of your nature, patience and longsuffering will have gradually grown up and replaced it. That is the incredible grace that we have in Christ Jesus.
That is the faith that you have to hold onto while you are still in the stage of fighting to overcome it. "Now faith is the substance of things hoped for. The evidence of things not seen." Hebrews 11:1.
This post is also available in
Scripture taken from the New King James Version®, unless otherwise specified. Copyright © 1982 by Thomas Nelson. Used by permission. All rights reserved.