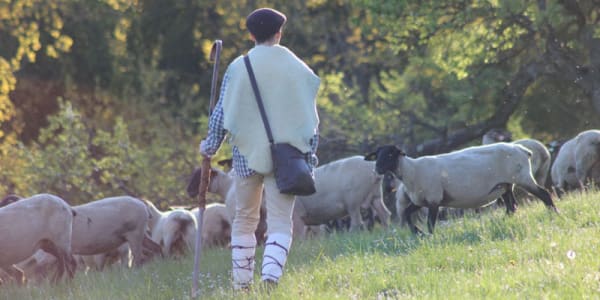 Jesus wants to be your Good Shepherd
Are you allowing Jesus to be your Shepherd? Or are you still trying to be in control of your own life?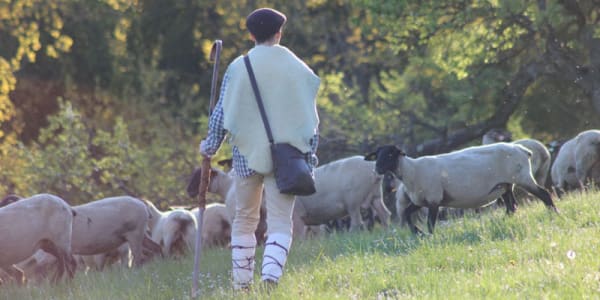 Jesus, the Good Shepherd
Jesus said in John 10:11, "I am the good shepherd," and He really is, but not for everyone! Does He want to be a good shepherd for everyone? Yes, I believe He does, and that is why He died for the sins of the whole world and not just for a few. But the truth is that most people do not want to have Jesus as their shepherd in this life, but would rather be in the driver's seat themselves.
You can ask the question then, "For whom is Jesus a shepherd?" Or, "Who are His sheep?" They are all those who have given all to be His disciples. "If anyone comes to Me and does not hate his father and mother, wife and children, brothers and sisters, yes, and his own life also, he cannot be My disciple. And whoever does not bear his cross and come after Me cannot be My disciple. … So likewise, whoever of you does not forsake all that he has cannot be My disciple." Luke 14:26-27,33. All who pay this price become qualified to be Jesus's disciples, or you could say students. "A disciple is not above his teacher, but everyone who is perfectly trained will be like his teacher." Luke 6:40. Does it really say that I can be like Him? Yes, that is exactly what the verse says. Which goes along with Romans 8:28-29: "And we know that all things work together for good to those who love God, to those who are the called according to His purpose. For whom He foreknew, He also predestined to be conformed to the image of His Son, that He might be the firstborn among many brethren." Think to have a shepherd, guide, and teacher who can teach us to use everything so that it works for our spiritual growth both day and night!
Jesus is a Master Shepherd
The role of a shepherd is to guard, protect, feed and shelter the sheep and Jesus is the Master at this. "For we do not have a High Priest who cannot sympathize with our weaknesses, but was in all points tempted as we are, yet without sin." Hebrews 4:15. Jesus, who lived, breathed, and walked on this earth knows exactly what needs to be avoided and what is good for us. "He makes me to lie down in green pastures; He leads me beside the still waters." Psalm 23:2. Jesus leads us to real food. "Jesus said to them, 'My food is to do the will of Him who sent Me, and to finish His work." John 4:34.
We also find this real spiritual nourishment in doing God's will. Our inner man becomes stronger and stronger when we obey and do what Jesus speaks to our hearts. (Hebrews 5:9; James 1:25) He also meets our deepest thirst. "On the last day, that great day of the feast, Jesus stood and cried out, saying, 'If anyone thirsts, let him come to Me and drink. He who believes in Me, as the Scripture has said, out of his heart will flow rivers of living water." John 7:37-38. We read in Matthew chapter 4 that when Satan was attacking Him with temptations, Jesus always used the Word of God to silence him. He teaches us to do the same so that we experience what is written in Romans 16:20 for ourselves. "And the God of peace will crush Satan under your feet shortly." On the road to Emmaus when the disciples listened to Jesus, their hearts burned within them and it is the same today when we hear the voice of our blessed Lord and Savior through His Word.
Continue reading below ↓
Like what you're reading?
Learn from Jesus, your Shepherd
When the lambs are young then Jesus The Shepherd is fierce in defending and protecting them. But when they start to grow up and mature, then He is faithful in teaching them to defend themselves against every form of evil. These days, those who call themselves Christians are for the most part lazy and really want Jesus to do everything for them. They are very happy to believe in Him as long as they don't have to pick up their own cross and follow Him. "For the grace of God that brings salvation has appeared to all men, teaching us that, denying ungodliness and worldly lusts, we should live soberly, righteously, and godly in the present age." Titus 2:11-12. Yes, the grace that is in Christ Jesus is to teach us to deny every form of evil, and not only to deny it, but to overcome it.
Jesus gives an invitation to all who yearn and long for this life of victory over all sin in Matthew 11:28-30. "Come to Me all you who labor and are heavy laden, and I will give you rest. Take My yoke upon you and learn from Me, for I am gentle and lowly in heart, and you will find rest for your souls. For My yoke is easy and My burden is light."
This post is also available in
Scripture taken from the New King James Version®, unless otherwise specified. Copyright © 1982 by Thomas Nelson. Used by permission. All rights reserved.