Prayer – more than a last resort
Have we seen the indescribable riches we can get from prayer?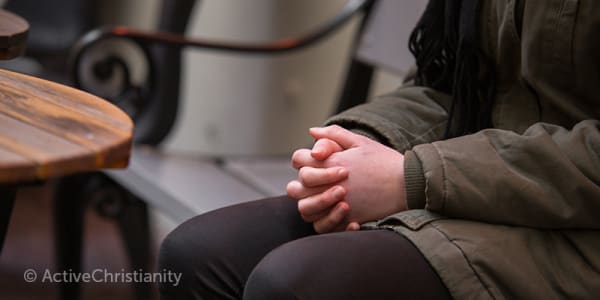 I skim through the newspaper article. It's about a survey on how many people pray, and the statistics are declining. But it is the explanations for the numbers that get me thinking. Why do we pray? And what do we pray for?
The statistics show that fewer and fewer people pray to God. I live in a materially rich corner of the world, without any obvious crises. Perhaps that is precisely why we do not pray so much. Do we simply believe that we don't need prayer? Theologians, scientists and other specialists put forward some reasons for the results. These get me thinking; have we really seen the indescribable riches we can get from prayer?
1. We are so well off that we don't need God.
The dominant explanation in the article is that we live in such a secure and good society that we don't need God to make it through the day. Is this true?
If we really want to live by God's commandments and laws, we need His help every day, every minute of the day. We need to know that He is there for us, that He loves us and that He is eagerly waiting to help us when we pray to Him. We need God's grace and power every time we come into temptation, in order to overcome. This has absolutely nothing to do with our environment; after all, our nature is the same whether we are here or at the North Pole. If I tend to be grumpy and offended here at home, I will also be so over there.
Read also: My very best Friend!
Continue reading below ↓
Like what you're reading?
2. At least it is good to have the possibility to pray.
The article says that although there aren't many people who pray, most of us will cry out to God if only the situation is tough enough. Then it is good to be able to pray to Jesus.
Where there is great need, there is probably much prayer. But has Jesus just become our "last resort?" As in, One we can turn to when there are no more options?
Think how often we are tempted to impatience, for example. It may look like an impossibly high mountain to get complete victory over all that, and become someone who is always patient. But Jesus showed us that it is possible, because He also wanted to respond with irritation, but never gave in to this desire! He was tempted in all points as we are, but never sinned. (Hebrews 4:15-16)
So why wait until a disaster happens before we turn to Him? Just think how valuable it is to rather take every little situation seriously and already there admit that we need help from God. Such people follow in Jesus' footsteps. Such people experience victory and experiences of faith in the midst of everyday life.
Read also: When do I call out to God?
3. We're often too busy to pray.
Most of us can relate to this statement, that it is so easy to get too busy. Work, school and church require much time and effort. We can easily become totally engrossed by everything to plan and do today, this week and until the next holiday. The days race by. But although there is a lot going on, this does not exclude prayer. Indeed, the opposite is usually the case—it is especially then that we need prayer.
When there is a lot going on, and I'm interacting with different people, for example, I should be extra alert. My own negative reactions occur before I know it. There may be irritation for example, which very easily emerges when I am stressed. To adhere to the will of God during the day and especially during busy times, we need to pray even more than before, for love, patience and kindness. (Galatians 5,22) For all people.
What does the Bible say about prayer? "Pray without ceasing," we read in 1 Thessalonians 5:17. Our relationship with God never takes a break. We can always be in a "heavenly mode"—by living for God, and with our mind set in heaven. We can't literally kneel and pray all day, but we can be in a spirit of prayer throughout the day. This is entirely possible—and then help is close at hand when we need it. God gives grace to the humble. (James 4:6)
What do we pray for?
But the survey also shows that there are many who do pray. They pray in gratitude for God's grace and goodness, they intercede for their near and dear ones, and for the world we live in.
It is God's will that we should be thankful. "In everything give thanks; for this is the will of God in Christ Jesus for you." 1 Thessalonians 5:18. In the old covenant people showed their gratitude by sacrificing an animal as a thank offering. In the new covenant the sacrifice is moved inward in our lives, and we can send up thankful prayers to God from a sincere heart, and show thankfulness in our actions. This is an important part of our spiritual worship. (Romans 12:1)
It is also good to pray for the others around us. Then we don't have to walk around in our own selfish thoughts all day long, and our heart becomes filled with care for the others instead. It also says in the Bible that we should pray for those who govern the country (1 Timothy 2:1-3). God's hand is in all things.
But prayer is also about getting help in our own lives. We can pray to God to help us today and this hour, to stand firm in our covenant of discipleship with Him. To keep our hearts clean from sin so that we can look forward to an eternity with Him in glorious happiness and peace.
Jesus Himself prayed intensely when He was in the same situation as us: "…who, in the days of His flesh … offered up prayers and supplications, with vehement cries and tears…" Hebrews 5:7. Do we take it as seriously as Jesus? Do we pray earnestly to God for help, when we notice that we are tempted to do wrong?
Read also: How should we pray according to the will of God?
God is there for us
Consider that God can be so much more than a fallback for us—so much more than training wheels that are good to have when we are no longer able to keep ourselves upright. He sent Jesus, who has shown us what it means to fight against sin—and now has a full-time job to strengthen us to do the same. (Hebrews 7:25)
God is there for us, when we come to Him for advice and comfort when we need help and strength, and when we come to Him with hearts full of thankfulness. Prayer gives us exceptional possibilities. Have we started to use them?
"… rejoicing in hope, patient in tribulation, continuing steadfastly in prayer." Romans 12:12.
This post is also available in
Scripture taken from the New King James Version®, unless otherwise specified. Copyright © 1982 by Thomas Nelson. Used by permission. All rights reserved.