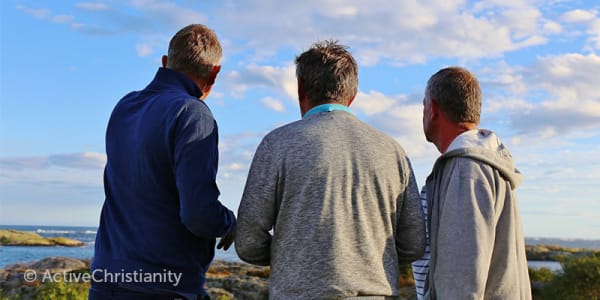 The road from passive to active faith
"I believed in God and His Son, but was not living a Christian life. I didn't feel I needed to, either." But what changed?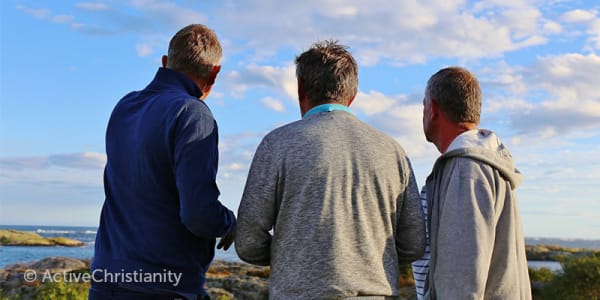 I have always perceived it as logical that there is a mighty God behind everything – even though I did not have a Christian upbringing.
The biologist Edwin Conklin once said: "The probability of life originating from accident is comparable to the probability of the Unabridged Dictionary resulting from an explosion in a printing factory."
This was one of the arguments I used from when I was young to convince people that God was not a fairy tale.
The course of life
When, as a child, I learned about Jesus at school, I had no doubt that He was the Son of God. I thought His way of living and what He taught people was supreme. Gentle and compassionate, but not afraid to sing out when needed. But it felt that living like Him was unattainable. So, I believed in God and His Son, but I was not living a Christian life. And I didn't feel I needed to, either. Life was generally pretty good and comfortable.
However, as life went on, I became more and more tired of it all. It seemed that most people were only concerned with a successful facade. Nice job, good pay, concerts, travel, cars, cabins, houses, etc. Everyone had smart children and their grandchildren were little geniuses. Conversations mostly centered around these things. There was rarely room for the more serious topics in life.
In the rest of the world, there was war, distress and misery. Inconceivably many people live like this, while others, a minority, wallow in wealth. Politics, both locally, nationally and internationally consisted largely of broken promises and conflicts and sometimes appeared tragicomic.
Therefore, at the age of 40, I was already a critical and quite disillusioned person. Finished with most of the things in the world. As a 50-year-old I became a widower. Having followed the progression of a serious illness for many years, ending in death, left a deep impression on me.
Continue reading below ↓
Like what you're reading?
A longing for something more
What were the real values ​​of life? Was I ready to meet death? I needed to talk to someone about these topics.
I navigated to the home of my old mother-in-law. She had always been a model for me in her quiet Christian life. Her deceased husband had also been a really good and fervent man of faith.
Ever since I got to know them when I was young, I had been curious and fascinated by their lives. They were always cheerful and attentive – never any complaining or dissatisfaction. In my mother- in-law's living room, there was always peace, always calm, always harmony. So I often visited her and we had good, valuable talks. A desire was awakened in me to lay hold of the same life.
From my youth I remembered that Jesus had said, "I am the way, the truth, and the life." (John 14:6) In other words, we were to follow Him. And that would have to mean that we should live like Him – among other things, without committing sin.
So I did not quite understand when someone said or wrote that Jesus had suffered death on the cross for our sake and had paid for our sins. This was true, of course, but the way it was emphasized made it seem that there was nothing much beyond that. There were few guidelines as to how to develop in your personal faith.
But I was looking for a life. I was lucky to know Christians, my in-laws among others, who seemed to have a really developed and solid Christian life. A life where it is possible to follow Jesus and become like Him.
I wanted to lay hold of that life.
In the end, I simply had to get converted to get peace of mind. A little reluctantly, since I had hoped to avoid what I assumed would be a serious and dull life. But now the decision had been made, so I just had to throw myself into it.
The gospel
The word "gospel" is derived from a translation of the Ancient Greek word "euangelion," meaning "good news." In ancient literature it could mean news of victory or the announcement of a new king's birth or accession."
The message of victory that Jesus came with was that people, by the Holy Spirit, can now defeat the sin that Satan infected humanity with at the fall. It is truly the good news that the angels of the earth proclaimed at the birth of Christ.
What has the gospel given me?
The gospel has given me – and gives me – everything, really. Life is comparable to a jigsaw puzzle. Without God, most of the pieces are missing. God's pieces make everything fall into place.
Here are some of the things that have affected me the most:
I thought Christian life was dull and boring. I was very wrong: I have never participated in as much fun and so many meaningful things as now.

All the terrible things happening in the world – all suffering and distress – will end one day. A mighty comfort.

Without love, all is in vain. Not the man-made understanding of love that is sung, written and talked about, but the true love of God. His love is stable and unaffected by political and contemporary adaptations. Pursuing that love is really meaningful.

A marriage built on the Word of God is built on the rock. The same goal and the same mind – always having a good relationship – and always being able to discuss the Word of God.

I can change. By obedience to God's Word, my reactions constantly come more into line with His will. There is no greater personal growth.

Perhaps the greatest social hobby among us human beings is to backbite and judge others. Learning to lay off is a liberation from one of Satan's most devastating weapons.

It was strange to learn that feelings and human reasoning are unreliable and fallible parameters. To find that it was true – and that God's Word is the only reliable thing, was great.

When we die, the spirit does not die – it is only a transition to something far better. Such a certainty makes life and death incredibly more easy.

Sickness, loss, missing people, separation, etc. may feel incomprehensible, unnecessary and unfair. Being able to think that all that happens in my life – both good and bad, is for my own best is perhaps the most important knowledge the gospel has given me. If I really believe this, I only have good days.
The life I live now is better than I could ever imagine.
And – amazingly enough: It is getting better and better day by day!
This post is also available in
Scripture taken from the New King James Version®, unless otherwise specified. Copyright © 1982 by Thomas Nelson. Used by permission. All rights reserved.