The 2nd extraordinary promise: You will not be hurt by the second death
The second in a series about our eternal rewards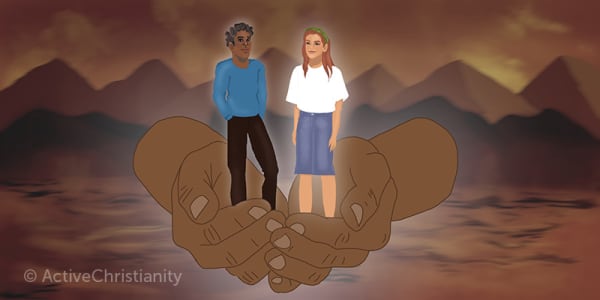 "He who has an ear, let him hear what the Spirit says to the churches. He who overcomes shall not be hurt by the second death." Revelation 2:11.
God loves His creation. Sin corrupted it, but now He has a plan to return it to its original state of perfection, and He will reward those who help Him carry out this plan.
Sin was born because of Satan's desire to set himself above God, and it destroyed the harmony of heaven. Now God needs sin to be completely eradicated from all of His creation, in such a way that there is no possibility of it happening again.
So He created mankind with the express intention that they should rule over sin. (Genesis 4:7) His entire plan is that mankind should live a life where they hate and resist sin, and say yes to Him – to overcome. One who overcomes sin in their life is proving that God's way is perfect, and is part of the work of abolishing sin for all eternity. Each one who does this will taste the rich rewards of living such a life. These promises apply to all who overcome.
The second death: The lake of fire
The second death is the lake of fire. (Revelation 21:8) This is the judgment over everything that is tainted by sin. When someone has not used the opportunities in their life to overcome sin, they will be hurt by this second death, because nothing that cannot stand the fire of judgment will be allowed into eternity.
For you who have used your opportunities while still here on this earth to overcome sin, you will not be hurt by that second death. You have recognized the sin that you are tempted to, judged it as unacceptable for one who wants to practice righteousness, and resisted it.
You are an overcomer who lives righteously, and does what is good and true in every circumstance. And if you fall, you repent, are forgiven, and resolve to resist the temptation to sin the next time. You don't want to miss an opportunity!
"Look to yourselves, that we do not lose those things we worked for, but that we may receive a full reward." 2 John 1:8.
Eternal value
It is more than worthwhile to endure giving up your own will, the works of the flesh that Paul speaks about in Galatians 5, in order to do God's will. The love, goodness, longsuffering, etc. that replaces your natural selfishness, envy, uncleanness, and so on, are the results of living an overcoming life. These give you value that you will have for all eternity.
There is grace for forgiveness of sins, but you also have grace for a much deeper life. Anytime an opportunity to overcome sin is missed you will be forgiven, but have lost an opportunity to gain something of eternal value. That is the pain of the second death. That is an eternal loss.
1. Corinthians 15:41 talks about the glory of the sun, the moon, and the stars. This is symbolic of the eternal glory that you can come to. The more eternal value you have as a result of being faithful to overcome, the greater your eternal glory will be.
If you enjoyed this article about God's promise that "You will not be hurt by the second death," you may also want to read more about the other extraordinary promises given to us in Revelation 2 and 3.
This post is also available in
Scripture taken from the New King James Version®, unless otherwise specified. Copyright © 1982 by Thomas Nelson. Used by permission. All rights reserved.