The 7th extraordinary promise: Sit with Me on My throne
What is the reward for living a faithful life?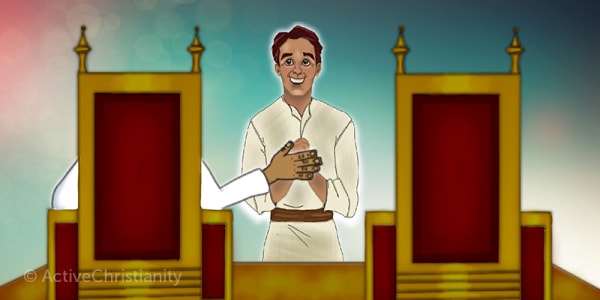 "To him who overcomes I will grant to sit with Me on My throne, as I also overcame and sat down with My Father on His throne." Revelation 3:21.
God loves His creation. Sin corrupted it, but now He has a plan to return it to its original state of perfection, and He will reward those who help Him carry out this plan.
Sin was born because of Satan's desire to set himself above God, and it destroyed the harmony of heaven. Now God needs sin to be completely eradicated from all of His creation, in such a way that there is no possibility of it happening again.
So He created mankind with the express intention that they should rule over sin. (Genesis 4:7) His entire plan is that mankind should live a life where they hate and resist sin, and say yes to Him – to overcome. One who overcomes sin in their life is proving that God's way is perfect, and is part of the work of abolishing sin for all eternity. Each one who does this will taste the rich rewards of living such a life. These promises apply to all who overcome.
"Sit with Me on My throne:" Reign with Jesus!
God's grace has given you the opportunity to be part of the bride of Christ! It is inconceivable how tremendous that really is. It is a calling that creates a need for faithfulness and obedience, so that your place there is confirmed. As part of that bride you will sit together with Him on His throne, judging and reigning over the earth! The wisdom that you need to be able to do so can only be found through what living an overcoming life has taught you. (Wisdom of Solomon 1:3-4)
It is not life's experiences in themselves that teach you, it's what you learn from those experiences. It's about what happens in your thoughts. Sinful thoughts come, thoughts of envy, pride, and many other things. But you can't allow such thoughts to live! They have to be overcome. Then rather than allowing something such as envy to control your actions, you learn to react with wisdom, in a godly way. That's what will give you the authority to reign with Christ. If you can rule over sin, then you can rule together with Him! You can reign with Jesus.
When it comes to how much wisdom you gain, it is entirely in your hands. You will have countless opportunities in your life to overcome sin. Each of these opportunities, each of these temptations, is a chance to grow more in the virtues of Christ and increase your eternal value.
I personally don't want to be the last one, just scraping in with the glory of a fizzling star. I want to shine with the glory of the sun! This is the only appropriate way to thank God, and honor Him for the unbelievable, inexpressible life and eternity that He has called me to, and for His unfailing goodness and love.
"To him who overcomes I will grant to sit with Me on My throne, as I also overcame and sat down with My Father on His throne." This is an amazing promise: to reign with Jesus! If you enjoyed this article, you may also want to read more about the other extraordinary promises given to us in Revelation 2 and 3.
This post is also available in
Scripture taken from the New King James Version®, unless otherwise specified. Copyright © 1982 by Thomas Nelson. Used by permission. All rights reserved.