These things are not insignificant …
One little request from my husband on a busy morning could have easily been brushed off.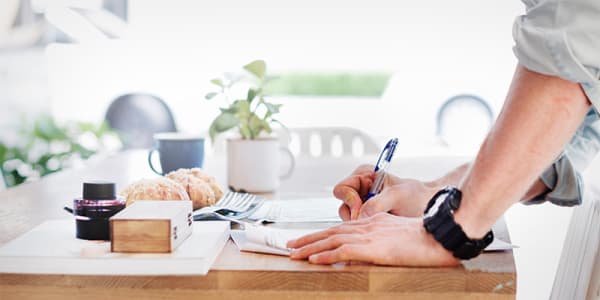 The other morning my husband was on his way to his office and I was on my way to mine. His office is in a little building to one side of the house and mine is in a little building on the other – our paths often cross in the middle when we are in a hurry. And he said to me in passing, "Could you make me some breakfast?"
The days are long gone when I have had to get children ready for school in the morning, make bottles, change nappies and see to everyone else's needs before the day really starts. Now that I was working and sometimes away from home I had shown my husband how to make porridge and scramble eggs so he could look after himself if necessary. Admittedly since he has developed Parkinson's preparing food has not been easy, but we both wanted him to remain as independent as possible for as long as possible. More to the point, I felt like he was just using me as his housekeeper and this irritated me, so my first thought was: "Let him get his own breakfast …"
This sounds like it could have been a lengthy thought process, but in reality, our reactions run faster than a hot knife through butter. I may have been swayed by recent figures produced by The Office for National Statistics who said that, when it came to unpaid chores at home, women were doing almost 40% more than men on average. Where both work, it's usually the woman who has the added responsibility for cooking and cleaning. I don't think women should be viewed as "housemaids", and I was about to tell my husband so. And yet however many ways in which I could justify my immediate inclination to refuse his request, there was something else that I couldn't justify. I could taste unkindness in my attitude. And I knew, I just knew, that the Spirit was pointing out something that I needed to address.
More than just "acting kind"
Practically speaking, writing a module for a study guide was urgent and the deadline was looming. Spiritually speaking, God was highlighting something in my nature that needed to go, and here was an opportunity to address it. I could have continued on my way telling myself I was too busy. Or I could have shrugged my shoulders, put my books down and begrudgingly gone to the kitchen, scrambled some eggs and banged the plate down in front of him – which is doing a kind act without being kind. I really resented the mere "housekeeping role," so I could sense a struggle between how my nature wanted to react and what the Spirit was pointing out to me.
Neither of the choices above would have led to the divine nature I wanted to obtain, but those two options were the only ones available to me unless I asked for God's help. You see, I didn't want to just "act kind" – I wanted to be totally rid of this human reaction that was so quick to be resentful and to actually replace it with divine nature. I needed to pray for a Word of God that I could use there and then to follow which would free me from my unkind nature. And this is what the Spirit popped into my mind:
"Love suffers long, and is kind …" 1 Corinthians 13:4.
These aren't difficult words to understand. I asked God to help me deny my own feelings and follow His Word. I asked for the strength to simply be "kind." I put down my books, went to the kitchen, made a delicious mushroom and onion omelette topped with fresh basil, and placed it graciously in front of my husband. I had even warmed the plate. Then I picked up my books, went to my office and started writing.
This may sound trivial, an unimportant detail of everyday life – but of such little details our transformation is made. It's not really a question of who makes my husband's breakfast in the end; it's a question of am I listening to the Spirit and can I be obedient to His promptings?
And if we can't be faithful in these small details of our lives – if we can't listen and obey when the Spirit quietly whispers in our ears – then we are of no use to Him. The whole process took just an extra 20 minutes of my day, but I had gained something for eternity – a little bit of the life of Christ.
Scripture taken from the New King James Version®, unless otherwise specified. Copyright © 1982 by Thomas Nelson. Used by permission. All rights reserved.