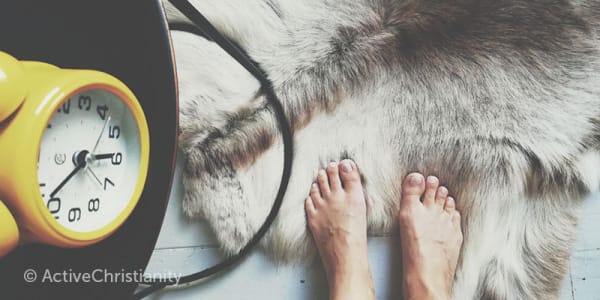 When your feet hit the floor in the morning …
There's only one way to be prepared for the unknown that we'll face each day.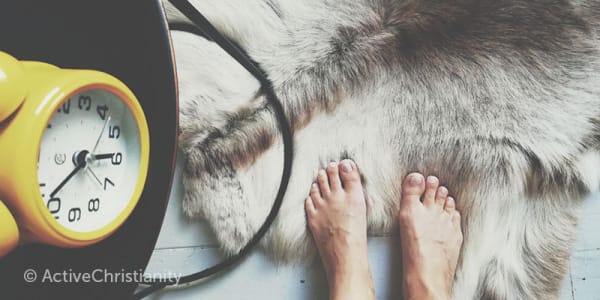 Practically speaking, it is good to have a routine. We know when we have to get up, have breakfast and get out of the house in the morning. Or if we work at home, having a structure to our day means we don't waste time and we can make sure the important stuff gets done.
Spiritually speaking – we must never live like this.
A few years ago, I came across this quote:
Be the kind of woman, that when your feet hit the floor in the morning, the devil says;
"Oh crap, she's up!"
When we wake up we have a day full of opportunities, and we don't know what's coming. We know what time we have to leave to beat the traffic, we know what meetings we have to be at, what reports have to be in, and what phone calls we might have to make. We know the kids need to be got up and dressed and fed before school, that washing needs to be done and food cooked – and a million other things. But we don't know what else will come our way, or how we will react to it.
And there is only one way to be prepared for the unknown …
A Helper
If we are a disciple we have access to the Holy Spirit. We don't need a title or a ministry for this, and we don't need to go to our church leaders for direction or approval in our everyday life. We have the word of God and we can pray, and if we use both these things then we will develop our inner ear to what the Spirit is saying to us personally. This is how we learn wisdom. And this is what can make each day an adventure.
Apart from what we have written on our to-do list, and apart from the appointments or tasks we have to complete that day – as our feet touch the bedroom floor for the first time each day we are saying inside; "Dear God, help me to hear what the Spirit is saying to me today. Give me wisdom so I can judge myself, and stand up for Your truth and what is right …"
And then something wonderful happens. Well two things, really. The first thing is that we get a strong relationship with the Head who will guide us through the complexities of our lives. Somehow, our life will gain value without us consciously trying; this happens by being obedient to the Spirit and allowing ourselves to be trained and chastened. And we come to realize that just because we don't have our whole lives all figured out this shouldn't hold us back.
The second thing is, we become part of a living, powerful Body where each member brings life and spirit into fellowship. Members who aren't stunted, but who have learnt to grow independently, and who are then examples to others who want the same life. As it says in Proverbs 14:30 – a sound heart brings life to the Body.
Letting myself be led
As my feet hit the floor each morning I make myself ready. I think about how the Spirit will guide me, and I am open and ready for business. When I live like this I can rise above the disappointments and discouragements that life brings, because my main aim is something else. It isn't dominated by whether I get that house I want, that job I applied for, whether I get included in everything, or whether my kids are successful at school. My aim is that I find my life and lose it, that I can humble myself under God's hand and have the same attitude to life as Jesus did – nevertheless, not as I will, but as You will.
The end result of this is exhilarating, not just for us but also for the people with whom we have fellowship. We don't get known for being predictable – we just keep coming up with refreshing surprises …
"The wind blows where it wishes, and you hear the sound of it, but cannot tell where it comes from and where it goes. So is everyone who is born of the Spirit." John 3:8.
Scripture taken from the New King James Version®, unless otherwise specified. Copyright © 1982 by Thomas Nelson. Used by permission. All rights reserved.