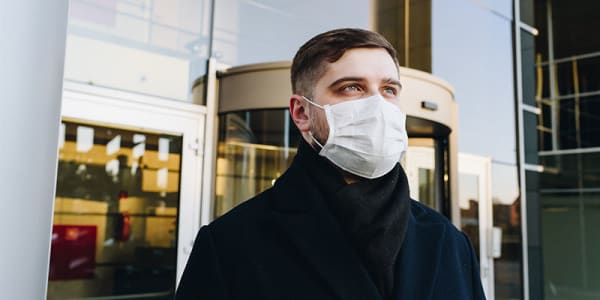 Why we can lift up our heads, in hope for the future
Jesus tells us that we should not be troubled by the seemingly terrible events that sweep over the world.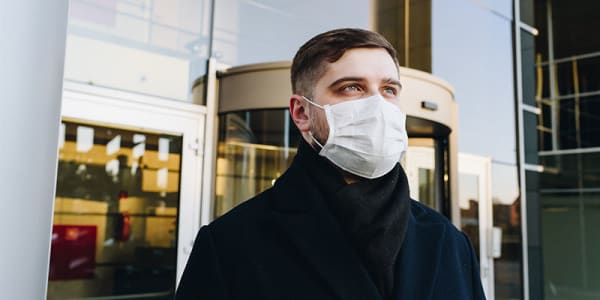 Regardless of what stage you are in life, where you are located in the world, your wealth, age, health or social status, there is one enemy that most of us face at some time in our lives – that is fear for the future. Who does not want to be totally finished with this enemy and have rest within? Personally, this is what I long for and I know as I draw closer to God in the hidden, He will give more and more of a fullness of that peace as a firm rock under my feet.
The current situation
I moved to Asia several years ago for my job. At the beginning of this year, the now well-known coronavirus pandemic hit this part of the world. Strict regulations and a lockdown of the city resulted, fortunately, in relatively very few getting infected by the virus. But it was a surreal time. A city known to be densely populated and bustling with noise and activity was nearly silent. The streets were empty. There was panic, fear and frustration.
Over two months have passed and now it is clear that the virus has found its way across land and sea into nearly every country of the world. At the time of writing, over two million have been infected, over a hundred thousand have died, borders are closed, countries are on lockdown, citizens are self-quarantined and the whole world is living in uncertainty, fear and much sorrow.
On social platforms and in the news, people are speculating about whether this is a sign of the end times. It is perhaps this fear that the end is getting closer which is on people's minds. However, no matter how frightening the current events seem, Jesus tells us that we should not be troubled by the seemingly terrible events that sweep over the world. (Matthew 24:6-8.) In fact, He says in Luke 21:28 to "Lift up your heads because your redemption is near."
Continue reading below ↓
Like what you're reading?
Why you can lift up your head
"And because lawlessness will abound, the love of many will grow cold. But he who endures to the end shall be saved." Matthew 24:12-13.
Enduring, means enduring in our love for Jesus. Even though we can be tempted very strongly to fear, there is nothing we actually need to fear if we love Him. "There is no fear in love; but perfect love casts out fear …" 1 John 4:18. Love for Jesus gives us an anchor which we can hang on to securely in all times and seasons. He will never leave us or forsake us. This relationship with Jesus lasts past our current life – it is eternal.
Faith speaks about the future. As long as we are alive, there is hope – hope that we can endure to the end and be ready for Jesus. Faith in this, will lead us to get converted from the heart, to make radical changes and put our life in order according to what we understand from God's word. "If you love Me, keep My commandments." John 14:15.
Even the thief on the cross beside Jesus knew that as long as he had breath, he could still make things right. In his final moments, he gave his heart to God and Jesus promised him a place in Paradise. We do not know how much time we have left, but we do know that we have more time than the thief had left on the cross; more time to go on the way that Jesus has opened.
Jesus is merciful. He knows what it's like to be tempted. He knows what it's like to go through great trials. He was a human being, acquainted with sorrows. (Isaiah 53). The reason He chose to come to earth when He had everything in heaven was to have brothers and sisters. His love for mankind is greater than can be expressed with words. He wants it to go well for you! (1 Timothy 2:4; 2 Peter 3:9.)
As long as we are alive, we will find things that can be done better. Don't be discouraged. Jesus is not searching for perfect people. None of us would fit that description. He is looking for disciples – ones who are obedient to what He speaks and whose heads, or hearts, are lifted up towards Him. Then we can trust God and believe that our life is in His hands and the end of it will not happen one moment earlier than it should.
We have today!
I think often of this expression, "it came to pass." It's a bit of a strange expression to basically say that something will come so that it can also pass. It's a matter of time that the coronavirus pandemic will be under control and this time of isolation will pass by. Hopefully for most of us, life will return more or less to "normal." Will it have been a life-changing experience for me?
This is a unique time which none of us who have lived through will forget. Follow the laws put in place by your country's government. This is also a part of God's plan for you. Many families are now at home and together. Don't get tired of each other. Have a goal to continue in patience, goodness, thankfulness, and trust in Him without complaining or blaming those around you. Work on having good thoughts towards those you have to do with. Be quick to say sorry if you should do something that hurts. Be creative and make it good for those in your home. May this be a time where those you live with can look back with fond and happy memories.
Pray for others, not just the ones you know but especially for your government and the medical workers who are working courageously day and night. There are many who are experiencing enormous sorrow and pain at this time. Pray for them even though you don't know them personally. Think of those who may be lonely or afraid.
Above all, use this time to get to know God in a deeper way. Spend time reflecting over your life and God's word. Maybe there are things you should put right and ask for forgiveness for? Are there things that gnaw at your conscience? It is actually when you are quiet that God can speak most to you, if you are willing to listen. You can come out of this period as an inwardly changed person if you use the time well.
God made the universe. There is nothing that He can't make or that can stop Him. He holds the whole world in His hands. "Behold, the nations are as a drop in a bucket, and are counted as the small dust on the scales …" Isaiah 40:15. Could not God have stopped this microscopic virus before it spread to the corners of the earth? Of course, He could have. But I personally firmly believe that He wants to stop us in our tracks and wake us up to the importance of time and to what comes next – eternity. All of this is part of God's plan and He has a full overview. We must seek God with a true and upright heart. It is not yet the end. It is still the time of grace and that should fill us with great determination, hope and joy!
Scripture taken from the New King James Version®, unless otherwise specified. Copyright © 1982 by Thomas Nelson. Used by permission. All rights reserved.