30 Bible verses the devil doesn't want you to know about
Here's an armory of verses that will send Satan packing every time he tries to come to us with his lies and deceit.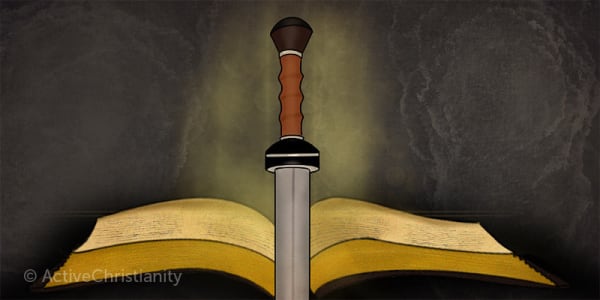 We challenged our followers on Facebook: "Name a verse the devil doesn't want you to know about."
The response was quite overwhelming! We are familiar with Satan's tricks, and know that the word of God is the way to overcome him every time. What a treasure of armor, power, and strength God's word gives us! He truly has not left us on our own to overcome "the wiles of the devil," but has fully equipped us. The devil can't stand up to the word of God.
Of course it's a bit of a tongue-in-cheek question, because we know that Satan would be happiest if we disregarded the word of God entirely. There isn't a word there that he's happy for us to know about. But it's a good exercise to think about it anyway, and think of verses that have been a special weapon for us.
Here is just a handful of the verses that were shared on Facebook.
Continue reading below ↓
Like what you're reading?
The devil doesn't want us to know the truth about him
"Resist the devil and he will flee from you!" James 4:7.
"And the God of peace will crush Satan under your feet shortly. The grace of our Lord Jesus Christ be with you. Amen." Romans 16:20.
"The thief does not come except to steal, and to kill, and to destroy. I have come that they may have life, and that they may have it more abundantly." John 10:10.
"So the great dragon was cast out, that serpent of old, called the Devil and Satan, who deceives the whole world; he was cast to the earth, and his angels were cast out with him. Then I heard a loud voice saying in heaven, 'Now salvation, and strength, and the kingdom of our God, and the power of His Christ have come, for the accuser of our brethren, who accused them before our God day and night, has been cast down. And they overcame him by the blood of the Lamb and by the word of their testimony, and they did not love their lives to the death.'" Revelation 12:11.
"Be sober, be vigilant; because your adversary the devil walks about like a roaring lion, seeking whom he may devour. Resist him, steadfast in the faith, knowing that the same sufferings are experienced by your brotherhood in the world." 1 Peter 5:8-9.
"You are of God, little children, and have overcome them, because He who is in you is greater than he who is in the world." 1 John 4:4.
"He who sins is of the devil, for the devil has sinned from the beginning. For this purpose the Son of God was manifested, that He might destroy the works of the devil." 1 John 3:8.
Satan doesn't want us to know that we have nothing to fear
"Fear not, for I am with you; be not dismayed, for I am your God. I will strengthen you, yes, I will help you, I will uphold you with My righteous right hand." Isaiah 41:10.
"Behold, I give you the authority to trample on serpents and scorpions, and over all the power of the enemy, and nothing shall by any means hurt you." Luke 10:19.
"For God has not given us a spirit of fear, but of power and of love and of a sound mind." 2 Timothy 1:7.
He doesn't want us to know about the power we have access to
"What then shall we say to these things? If God is for us, who can be against us?" Romans 8:31.
"And He said to me, 'My grace is sufficient for you, for My strength is made perfect in weakness.' Therefore most gladly I will rather boast in my infirmities, that the power of Christ may rest upon me … For when I am weak, then I am strong." 2 Corinthians 12:9-10.
"I can do all things through Christ who strengthens me." Philippians 4:13.
"No temptation has overtaken you except such as is common to man; but God is faithful, who will not allow you to be tempted beyond what you are able, but with the temptation will also make the way of escape, that you may be able to bear it." 1 Corinthians 10:13.
The devil doesn't want us to know the promises that we have in Christ
"For God so loved the world that He gave His only begotten Son, that whoever believes in Him should not perish but have everlasting life." John 3:16.
"He has delivered us from the power of darkness and conveyed us into the kingdom of the Son of His love, in whom we have redemption through His blood, the forgiveness of sins." Colossians 1:13-14.
"There is therefore now no condemnation to those who are in Christ Jesus, who do not walk according to the flesh, but according to the Spirit. For the law of the Spirit of life in Christ Jesus has made me free from the law of sin and death. For what the law could not do in that it was weak through the flesh, God did by sending His own Son in the likeness of sinful flesh, on account of sin: He condemned sin in the flesh, that the righteous requirement of the law might be fulfilled in us who do not walk according to the flesh but according to the Spirit." Romans 8:1-4.
"I have been crucified with Christ; it is no longer I who live, but Christ lives in me; and the life which I now live in the flesh I live by faith in the Son of God, who loved me and gave Himself for me." Galatians 2:20.
"That if you confess with your mouth the Lord Jesus and believe in your heart that God has raised Him from the dead, you will be saved. For with the heart one believes unto righteousness, and with the mouth confession is made unto salvation." Romans 10:9-10.
"But God demonstrates His own love toward us, in that while we were still sinners, Christ died for us." Romans 5:8.
"As far as the east is from the west, so far has He removed our transgressions from us." Psalm 103:12.
Read more here: The exceptional promise God reserved for us
Satan doesn't want us to know there are conditions
"Not everyone who says to Me, 'Lord, Lord,' shall enter the kingdom of heaven, but he who does the will of My Father in heaven." Matthew 7:21.
"But be doers of the Word, and not hearers only, deceiving yourselves." James 1:22.
"And we are His witnesses to these things, and so also is the Holy Spirit whom God has given to those who obey Him." Acts 5:32.
He doesn't want us to know that we have to reap what we sow
"Do not be deceived, God is not mocked; for whatever a man sows, that he will also reap. For he who sows to the flesh will of the flesh reap corruption, but he who sows to the Spirit will of the Spirit reap everlasting life." Galatians 6:7-8.
"Then, when desire has conceived, it gives birth to sin; and sin, when it is full-grown, brings forth death." James 1:15.
"For what profit is it to a man if he gains the whole world, and loses his own soul? Or what will a man give in exchange for his soul?" Matthew 16:26.
Read more here: Sowing and reaping: Making the right choices
The devil doesn't want us to know what the future is
"Do not rejoice over me, my enemy; when I fall, I will arise; when I sit in darkness, the Lord will be a light to me." Micah 7:8.
"Being confident of this very thing, that He who has begun a good work in you will complete it until the day of Jesus Christ." Philippians 1:6.
"For I know the thoughts that I think toward you, says the Lord, thoughts of peace and not of evil, to give you a future and a hope." Jeremiah 29:11.¨
Armed to overcome! God's word provides us with all the weapons we need to resist the Satan and destroy his works. No wonder the devil doesn't want us to know about these Bible verses! If we have committed ourselves to God's service, we will notice the devil raging, but we can be bold to fight back, because we have the promise of victory – every time! The result will be confidence, rest and peace in our spirit, fruit of the Spirit will become manifest in our life, and we will gain eternal life!
Scripture taken from the New King James Version®, unless otherwise specified. Copyright © 1982 by Thomas Nelson. Used by permission. All rights reserved.