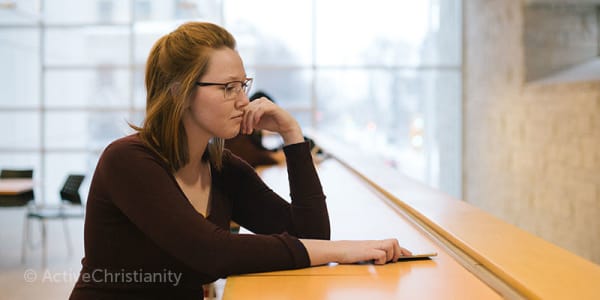 Something to understand when I just don't understand
In situations where I've asked: "Why do I have to go through this?" I've learned something valuable.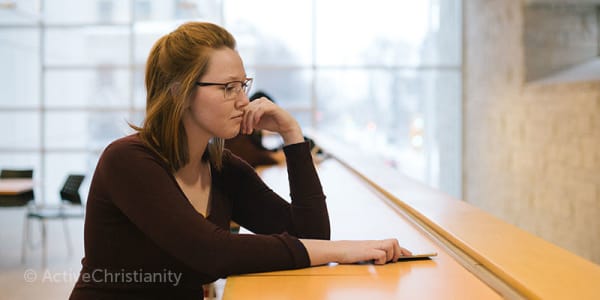 I tend to ask the question "Why?" about anything and everything – sometimes I feel like a two-year-old! And once in a while that means questioning why things are happening to me. "Why do I have to go through this situation or that situation?" It's in these particular situations that I have learned something valuable.
As a human being, I am very short-sighted. I understand things in terms of my perspective and what makes sense to me. I color entire situations through my own lens.
I can meet outward situations that I just can't understand: like sickness or financial difficulties, being misunderstood or rejected, losing someone close, etc. I can't just brush these things aside and be "happy-go-lucky" all the time. But I can understand that God has these situations perfectly in His hands and He wants me to get something out of them!
Everything happens for a reason
God is all-knowing. He understands everything perfectly and completely, from every angle. He understands the thoughts and intentions of all people's hearts. He created me and He knows exactly how I am as a person. "You … are acquainted with all my ways. For there is not a word on my tongue, but behold, O Lord, You know it altogether." Psalm 139:1-24. And He knows that I have a flesh in which dwells no good thing. Yet, knowing all that about me, He has called me to a life of progress in sanctification. This can only happen if I understand to use my situations for this purpose.
Little by little, God shows me the areas where things are not as they should be; where things need to change. Even when I don't understand the "why," God uses my situations to help me see my true nature. I really need to "humble myself" to admit that the truth about myself. But when I do admit it – and love the truth – then God can do a work in my life.
I might wish my situations were different, but as I make progress and develop, I begin to see and understand more and more what God's intentions are. Maybe a situation that I found "difficult" at the time, actually brought me into a much deeper need and relationship with or reliance on God. Or maybe I saw something in myself that was "drawn out" in the situation – like worry or pride. When I see these things then I have the opportunity to overcome them and be transformed.
Continue reading below ↓
Like what you're reading?
I need to become like Jesus
Jesus came to earth because He wanted brothers and sisters. (Romans 8:29; John 20:17; Hebrews 2:12.) Or, another metaphor describes this as "His bride." (Revelation 19:7-9; 2 Corinthians 11:2, John 3:29.) He wanted people with whom He could share the kingdom of heaven. (Romans 8:16-17; 1 John 3:2.) To become a fitting companion for Him I have to walk the way He walked. I also have to humble myself and allow God to thoroughly work with me in the same way He worked with Jesus during His days here on Earth. (Hebrews 5:7-9.)
In a practical sense, this means that I obey God's word so that it becomes life within me. Where before I was plagued with things that had nothing to do with God's kingdom (anxious thoughts, thoughts of impurity, selfishness, pride, etc.), I make progress toward things that fit perfectly into God's kingdom (faith and complete rest in God, complete purity, a tongue without guile or deceit, true humility, etc.). Jesus was thoroughly perfect, and in order to be a fitting bride for Him, I also need to progress on this way. (Matthew 5:48; Hebrews 5:9.)
"Not that I have already attained, or am already perfected; but I press on, that I may lay hold of that for which Christ Jesus has also laid hold of me." Philippians 3:12.
God knows me so thoroughly, that He knows the exact outward situations that it will take to get me to that goal! He plans everything absolutely and completely perfectly; exactly what I personally need! (Romans 8:28.)
Trust in the Lord with all your heart
There are plenty of situations in which being analytical is a good thing, but when it begins to pull me into thoughts of unrest and doubt, then it is clear that I'm going down the wrong path.
"Trust in the Lord with all your heart, and lean not on your own understanding." Proverbs 3:5. I often think of this verse in connection with my tendency to overthink things. When I can't wrap my head around something, I simply have to admit that I don't know. But God knows and He is in perfect control! He is not short-sighted, so I can rest completely assured that He understands and guides everything. (Psalm 147:5; Isaiah 55.)
God knows all the "why's," from the beginning, but He necessarily has to work with me little by little. Like a father teaching his child, He doesn't tell the child everything they need to know all at once! That would be a little overwhelming, and not very effective. He gives me ever increasing light over the things that need to change in my life, as I am able to bear it. Then, as I humble myself under His mighty hand, and am obedient to His word and His leading in my life, I make progress on the way of sanctification. I am personally very excited about this life, and very excited to go forward in a simple faithfulness on this way!
"But now, O Lord, You are our Father; We are the clay, and You are our potter; And all we are the work of Your hand." Isaiah 64:8.
This post is also available in
Scripture taken from the New King James Version®, unless otherwise specified. Copyright © 1982 by Thomas Nelson. Used by permission. All rights reserved.