The truly free Christian
The Son has made us free … but what do we have freedom for?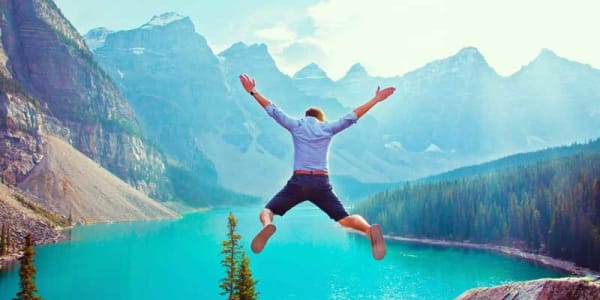 Check out the "Living the Gospel" podcast episode based on this article!
Freedom in Christ
"Therefore if the Son makes you free, you shall be free indeed." John 8:36.
Through His death on the cross Jesus has set us free from the law of sin and death! (Romans 8:2) Freedom in Christ is a grace that we cannot comprehend!
That includes freedom from so many things which we experience here and now in our day-to-day life.
Continue reading below ↓
Like what you're reading?
Freedom to not
commit sin
To sin – to commit sin – is to do what we know beforehand to be against God's Word and will. In John 8:31-36 it becomes perfectly clear that we have full liberty to choose not to give in when we are tempted to sin.
"Then Jesus said to those Jews who believed Him, 'If you abide in My word, you are My disciples indeed. And you shall know the truth, and the truth shall make you free.' They answered Him, 'We are Abraham's descendants, and have never been in bondage to anyone. How can You say, "You will be made free?"' Jesus answered them, 'Most assuredly, I say to you, whoever commits sin is a slave of sin. And a slave does not abide in the house forever, but a son abides forever. Therefore if the Son makes you free, you shall be free indeed.'"
This is true freedom!
Freedom from Satan
We have freedom from being harassed by Satan. We don't have to listen to his lies and accusations about all kinds of things. We are free to resist him and crush him under our feet. (Romans 16:20) When he tries to get us to bend an ear to him, we can tell him, "No! I was bought at a price, and I am Christ's and I will have nothing to do with you!" Glory to God that we have this freedom in Christ!
Freedom to respect each other's conscience
We have freedom to let others be free. No demands on how people should be or what they should do. Each individual has the freedom to follow their own conscience and to be obedient to the leading of the Spirit in their own life. I might, in all good conscience, be able to do something that isn't freedom at all for another person, and vice versa. If we hold others to our conscience we can place heavy burdens on them. Everyone has the undisputed right to follow their own conscience and we have to respect that. The conscience is also fluid, changing and updating as God gives us light about different things. He shows each one His truth as they are able to receive it and bear it.
Freedom to change
We don't have to remain the same person we start out as! God has given us each a personality, with gifts and talents. But within what He has given us we find our limits – that what we do is often contaminated by seeking honor, pride, and other sins. But we can become completely free from all of that! We are progressing on the way of life, on which we find these things and have full freedom in the Spirit to overcome them so that our works can be purified, so that with the personalities that God has created within us we can be a blessing, a help and a joy and strength to others. That is glorious freedom – freedom from the constraints of sin!
Also read: This is why transformation is the most glorious of God's promises
Freedom to make our own choices
We have our free will. We have full freedom to make our own choices. But we are still responsible for the outcome of our choices. When we choose according to our own free will, time after time, we have opportunity to see where our choices lead, and how things turn out. We get a chance to see how good or bad our choices were. In this way we learn lessons from previous experiences and learn to make better and better choices as time goes by. In this way God trains us and makes us into unique individuals!
This is true freedom!
Freedom for goodness
Free to do as much good as we want! Sin is what hinders our ability to be and do good to others. When we aren't a slave to our impatience, temper, envy, etc., we can bless and be good without limit.
God is incredibly good to give us so much freedom in Christ. If we use it right we will come to peace, joy, and righteousness in all that we do.
"Stand fast therefore in the liberty by which Christ has made us free, and do not be entangled again with a yoke of bondage." Galatians 5:1.
This post is also available in
Scripture taken from the New King James Version®, unless otherwise specified. Copyright © 1982 by Thomas Nelson. Used by permission. All rights reserved.