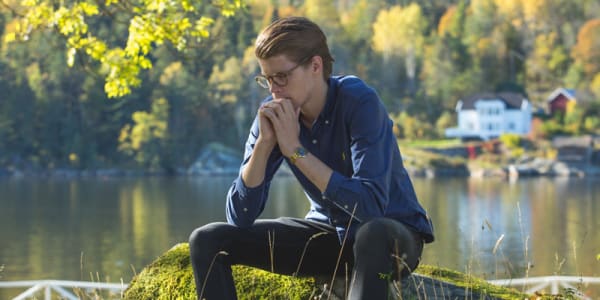 Why do I need salvation?
There's only one thing that can really satisfy you.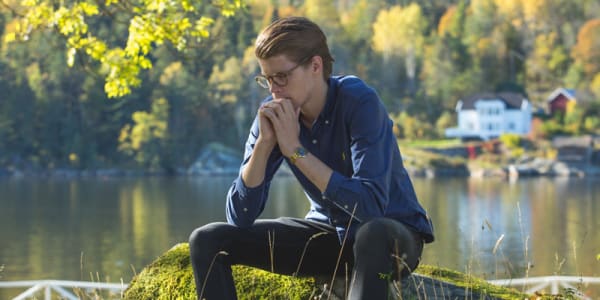 There's a restlessness, or gnawing emptiness that you can't explain. Or perhaps you would describe it as a "heaviness," a feeling of guilt that you can't seem to shake. You try to distract yourself from it, but nothing seems to work to the degree you had hoped. And there's a reason why.
The emptiness of your
lusts
In Ecclesiastes 1:8 it says that, "The eye is not satisfied with seeing, Nor the ear filled with hearing." It's also written, "I have seen all the works that are done under the sun; and indeed, all is vanity and grasping for the wind. What is crooked cannot be made straight, and what is lacking cannot be numbered." Ecclesiastes 1:14-15.
There is a great emptiness in the things of this world! No matter how much you attain to, you're never really satisfied. You long for peace and joy, but can't find it anywhere. You strive and strive, but at the end of every day, you find that these things are still lacking in your life.
Don't you long to be saved from this emptiness?
Eternity is in your heart!
In Ecclesiastes 3:11 it's written that, "He has put eternity in their hearts." Have you ever considered this? This is exactly what God has done for you. He has placed a longing in your heart, a longing for that which is beautiful, pure and everlasting! Have you sensed this longing in your life?
You may not always be aware of its presence, but you do notice it from time to time. Sometimes it manifests itself when things don't go according to plan, when you are sad, disappointed or alone. Other times, you notice it when you have achieved something, or when you reach a milestone in your life. Even in the height of success, you can't help thinking that there must be something more. You have a longing for the things which are eternal, and nothing of the world will be able to satisfy this longing.
So what will?
The source of life and joy
Is it not God Himself who can do this? He is the one who has given you your spirit, body and soul. (Genesis 2:7) He is the one who has created you and given you life. He is the very source of life and joy itself!
Since the very beginning, God has desired to lead people by their spirit. But, because of the fall, sin has permeated human nature and mankind has lost its connection with God (the source of life). People began to be led by their lusts instead of their Heavenly Father, and mankind fell into great darkness and emptiness.
This is the reason you feel the way you do. This is the reason nothing in this world can satisfy you. You are meant to have a connection with your Father in heaven! But, instead, you are bound by the sinful lusts and desires that exist within you from the fall. Try as you might, you can never be happy in this state of being. "For the wages of sin is death…" Romans 6:23.
Read also: Why did God create me?
A way back to the Father
But, thankfully, you do not have to stay in this wretched state, where death and emptiness rule! God is longing to have fellowship with you. (James 4:5-8) So much so that He sent His own Son, Jesus Christ, to the earth to free you from the chains that result from living according to your lusts. He conquered the very thing that separates man from their Creator: sin, or disobedience to God's good and perfect will. Sin was condemned in His flesh when He denied His own will to accomplish God's will, and therefore was able to make a way back to the Father. (Romans 8:3, Luke 22:42) You now have the opportunity, by following Jesus and denying your own will, to come to a relationship with the source of life, He who can give you everything you lack in life!
This begins with repentance, by deciding to live wholeheartedly for God, and continues with your daily salvation, which transforms your sinful nature into something holy and well-pleasing to God. Without salvation, you have no future or hope. (Romans 8:13) But, with it, you have the opportunity to become a new person: a person who comes to content and peace in their life! Isn't this what you want?
Don't you feel God tugging at your heartstrings? Can't you sense Him touching your heart? The Almighty God, your Creator, He who has no beginning or end longs to save you from sin and death! He longs to give you eternal life. (Romans 6:20-23) He is reaching out His hand to you.
Seek the Lord while He may be found
"'Why do you spend money for what is not bread, and your wages for what does not satisfy? Listen carefully to Me, and eat what is good, and let your soul delight itself in abundance. Incline your ear, and come to Me. Hear, and your soul shall live; and I will make an everlasting covenant with you …

'Seek the Lord while He may be found, call upon Him while He is near. Let the wicked forsake his way, and the unrighteous man his thoughts; let him return to the Lord, and He will have mercy on him …'" Isaiah 55:2-3, 6-7.
God, in His tremendous love and mercy, wants to save you from the emptiness and desolation that comes from living according to your lusts. Why continue to live according to that which leads to death and destruction? Why live a life that is alienated from God, when you can have a glorious life and future with Him?
God is calling you to be saved! He is calling you to forsake your old way of life: your sinful habits and all unrighteousness. He wants to lead you on a new way, so you can come to joy, peace and rest in your spirit.
Will you or will you not answer the longing of your heart?
This post is also available in
Scripture taken from the New King James Version®, unless otherwise specified. Copyright © 1982 by Thomas Nelson. Used by permission. All rights reserved.